Even French Actress Adèle Exarchopoulos Wants the Return of Destiny's Child
The French actress touched down in New York to attend the opening of Louis Vuitton's "Volez, Voguez, Voyagez" exhibition.
---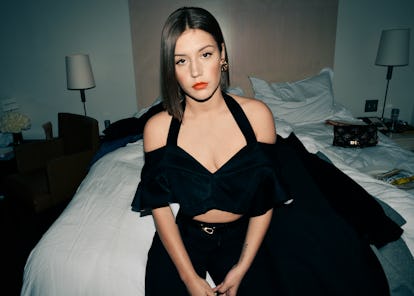 Walking into Adèle Exarchopoulos's room at the Mercer Hotel in New York, you'd be forgiven for thinking that you'd been transported to a chic studio apartment in the 11th arrondissement of Paris. European magazines, ashtrays with cigarettes, and a bottle of red wine are scattered around the room, filled with a crew of five trilling in French.
At the center of it all sat Exarchopoulos, wrapped in an oversized sweatshirt and getting her nails done. Occasionally, the the 23-year-old actress shimmied to P. Diddy's "Last Night," which was playing out of a nearby speaker. "We already went through all the entire Detroit soundtrack, so we switched," she explained.
Exarchopoulos had flown in from Paris the night before to attend the New York opening of Louis Vuitton's "Volez, Voguez, Voyagez" exhibition, which chronicles the brand's history from its founding in 1854 until today, and has previously been staged in Paris, Tokyo, and Seoul. (The New York edition is being housed at the former American Stock Exchange building and will be open through January 7). The actress herself had first seen the exhibition in Paris several years ago, in 2015. "It was like something back to my childhood because the malle makes me think of toys," she said. "I really liked it and that's why I wanted to come back."
A good bit of FOMO had also informed the decision, as Exarchopoulos, a frequent attendee of Vuitton events, had missed the house's recent celebration of the opening of Maison Louis Vuitton Vendôme, held during Paris Fashion Week earlier this month—and thus, had missed the much talked about performance by Will and Jaden Smith. "I was watching it on Instagram and I was like, 'Ah, I'm not there!'" she said. "I was so disappointed." Of her dream party performers, she was quick to select, "G-Unit, Rihanna, for sure, and Destiny's Child."
Of course, the actress's close relationship with creative director Nicolas Ghesquière was the true reason she had flown in for the occasion. "I first met Nicolas three years ago at an after party or something, and I was following his work, of course," she said. "At the beginning I was really scared and impressed, but he is really so sweet and nice. It is so nice to speak with him."
For the occasion, Exarchopoulos had selected a structural crop top and matching trousers from Ghesquière's most recent collection. "I like it because it is a classic Paris look," she said. "I tried maybe five or six looks, and I loved the shorts, but this was it. When you go into a fitting, you kind of know what you will wear. You always go back to the first one."
Of her favorite Louis Vuitton collection that she'd seen thus far, the actress had a difficult time picking favorites, ultimately landing on, "It was the one where I was sitting next to Selena Gomez, it was in Paris, and Kim Kardashian was there." (It was Fall 2015, and Kanye West was also there).
When she's not heading to a major event, however, Exarchopoulos prefers to go a bit more casual in her day-to-day look. "To be honest, [my daily wardrobe] is pants, basketball shoes, and a big sweatshirt," she said. "And in the summer, I love kimonos. And I wear flip-flops a lot, too."
It was an ensemble the actress looked forward to wearing in the coming weeks, having wrapped filming on her new film, The White Crow, which tells the true story of famed dancer Rudolf Nureyev's defection to the West, just three days prior. "I was playing Clara Saint, a woman who still exists and who had a big part in his defection," she said. "It is so actual and sounds like now. I remember when I was making it, I thought, 'Wow, men will never learn from their mistakes."
And as for her post-wrap plans for celebration while in New York? "Going to the High Line, walking a lot, getting lost on different streets, and eating a lot."
Related: Lily Collins, a Young Audrey Hepburn, Returns to Paris to Take In Givenchy, the Late Icon's Favorite Label
Watch: Léa Seydoux Reveals Her Cinematic Crush
Léa Seydoux Reveals Her Cinematic Crush