Jake Gyllenhall Scoops Up Property in Celeb-Popular Tribeca Dorm
Some of Hollywood's most elite faces are living in this Tribeca building, including now, Jake Gyllenhall.
---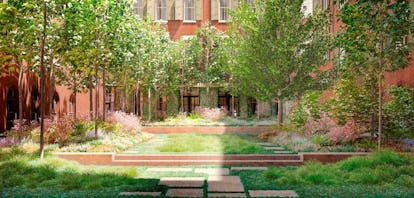 Courtesy of Trulia
Next time you find yourself wandering through the cobblestone streets of [Tribeca], shoulder to shoulder with all the Tribeca moms, look up—you could be gazing upon the nesting grounds of some bona fide Hollywood royalty.
Trulia reports that Jake Gyllenhall is the latest A-lister to buy a condo in a 19th-century factory building in the posh Manhattan neighborhood (which prides itself as being not only über private, but fully paparazzi proof).
Purchased for a cool $8.63 million, Gyllenhall's private 2,868-square-foot unit contains three bedrooms and three and a half baths. He may well have been lured by the equally famous neighbors he'll be sharing the elevators with: The likes of Justin Timberlake and Jessica Biel, Jennifer Lawrence, Harry Styles, Blake Lively and Ryan Reynolds, Meg Ryan, and Lewis Hamilton all own property in the building—and that number will likely keep growing as more units become available for purchase. It might be the most famous celebrity dorm in the world.
Despite a few photos being released of the private interiors, not much is known, aesthetically, about the building besides its having exposed beams and "tons of natural light throughout." We were able to get this short description from Trulia of the not-so-humble abode: "a converted book bindery that has maintained the charm and character of its former glory days, all while embracing the luxury and amenities that today's high-dollar buyers demand."
Seems about right that Hollywood's elite would be flocking to it.
Related: You Can Buy Tom Ford's Tadao Ando-Designed Ranch For Just $75 Million
What Back to School Looks Like For the Parents of Lower Manhattan
Be My Guest: An Upper East Side Apartment, Formerly Vacant, Gets An Artsy Overhaul: