Backstory: Jamaican Punch
The house band at Jon Baker's Geejam private hotel—the Jolly Boys—has a half century of history under its belt. Meet the missing link between Errol Flynn and Amy Winehouse. There's old school, and then...
---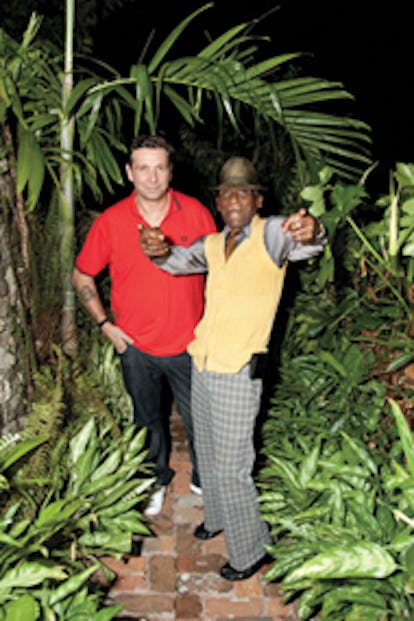 There's old school, and then there's ancient school: The Jolly Boys were "formed," if that's the word, as an ad hoc group of musicians who swam out to Errol Flynn's Navy Island just off the coast of Port Antonio, Jamaica, in the 1950s to entertain Flynn's guests at all-night parties complete with fire-walking, diving contests, and mento music performances. Over the decades, the Jollys, as they're called, have recorded seven albums, toured dozens of countries, broken up a few times, and added a couple of new members. Their latest record, Great Expectation—a collection of lilting calypsolike covers of songs by Blondie, Lou Reed, Iggy Pop, and Amy Winehouse, among others—was recorded at Geejam's private studio in 2009 and produced by owner Jon Baker; the band then spent much of this past spring roaming around Europe opening for Sade on her stadium tour.
Mostly, though, the boys enjoy a nice routine of playing gigs in and around Port Antonio, along with the occasional private party. (In February, they performed at Baker's 50th birthday party at New York's Hiro Ballroom just after a trip to L.A. to play Benedikt Taschen's birthday party at Il Covo.) For the video to promote their cover of Winehouse's "Rehab," Flynn's widow, Patrice—essentially the band's first employer—joins the group's mellow party, playing the part of a fan girl dancing her way onto the stage. "Always moving on, moving on," says the band's 75-year-old lead singer, Albert Minott.
Photo: Liz Brown