Jamie Dornan and James Corden Made a Very Steamy Fifty Shades Freed Parody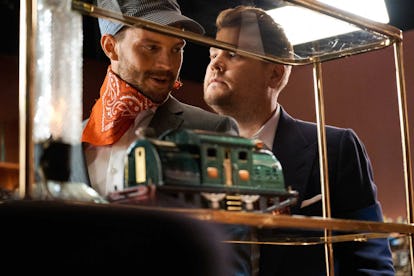 Terence Patrick/CBS
Jamie Dornan and Dakota Johnson's sex scenes in Fifty Shades Freed may be borderline scandalous, but the parody version the actor filmed with James Corden for The Late Late Show is arguably the most erotic thing on the Internet—without a single whip, chain, or vibrator in sight.
The scene: James Corden and Jamie Dornan, in matching Christian Grey-esque suits (complete with white pocket squares), standing outside of a mysterious, locked door. The dialogue is pulled straight from the moment in Fifty Shades of Grey when Christian Grey introduces Anastasia Steele to his playroom for the first time.
"It's just behind that door," says Corden. "What is?" asks his outfit twin Jamie Dornan. "My playroom," the host explains. "Like your Xbox and stuff?" asks Dornan.
As everyone knows, it definitely didn't involve an Xbox.
"I meant what I said, the helicopter's on standby to take you wherever you want to go," says Corden, before opening the door to a shocked and confused looking Dornan. While Christian Grey's infamous red room was filled with whips and chains, Corden's playroom was home to something even more surprising: model trains for grown-ups. "Call me signal master," the host commands as he outfits Dornan in a red neckerchief and denim cap.
Cut to the two men donning matching conductor outfits and lovingly embracing to the sounds of slow R&B while playing with model trains until a "steam release" from one of the engines signals that playtime is over.
Fifty Shades Freed, the third and final installment of the Fifty Shades trilogy, is due out on February 9 and expected to have just as much kink as its predecessors. Though, considering the film's latest trailer reveals that Anastasia is pregnant, maybe Mr. and Mrs. Grey will need this kind of playroom in their mansion, after all.
Related: Chris Martin and Dakota Johnson Had a PDA Moment
Fifty Shades of Grey: Behind the Scenes
"[Here] is is Dakota Johnson, naked on the floor." Photograph by Sam Taylor-Johnson.
"Dakota and Jamie Dornan between takes, relaxing on the sofa in Christian Grey's apartment." Photograph by Sam Taylor-Johnson.
"The Birds! I could not have found a better way to capture Dakota's legacy (her grandmother is Tippi Hedren, the famous Hitchcock actress)." Photograph by Sam Taylor-Johnson.
Dornan on set. Photograph by Sam Taylor-Johnson.
"[This] is the best of my stills. Dakota holds all the power." Photograph by Sam Taylor-Johnson.
"A still from the first lovemaking scene in the movie. There were probably 10 to 15 people in the room. It's an incredibly intimate shot in an unintimate setting. " Photograph by Sam Taylor-Johnson.
"[Here] we're between takes of the breakup scene. It was highly emotional, intense, and beautifully acted by the two leads." Photograph by Sam Taylor-Johnson.
"A shot of the scene where Jamie drips wine from his mouth into Dakota's, then seduces her with an ice cube." Photograph by Sam Taylor-Johnson.
"[Here} is Dakota, whose performance in the final scene in the red room was both incredible and the toughest to shoot. She gave her soul. This was taken moments after. I find it hard to look at." Photograph by Sam Taylor-Johnson.