Chris Martin and Dakota Johnson Had a PDA Moment
They've really gone public.
---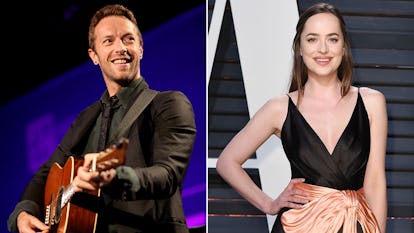 Getty Images
The first whispers that Chris Martin and Fifty Shades star Dakota Johnson might be a thing came this past October when the (alleged) couple were seen enjoying sushi together (obviously the most romantic of all the fish dishes). But now the pair seem to have all but confirmed their relationship, with some PDA, heavy on the P. The two attended the Stella McCartney fall 2018 fashion show in LA this week, and according to Page Six, Martin "was seen massaging the Fifty Shades Darker star's neck as they took in performances by Leon Bridges, Grimes, St. Vincent and Beck." While it's possible he was just helping out a platonic friend with a stiff neck out, this latest revelation definitely seems to indicate these two are consciously coupling.
There have been plenty of other indications of a budding romance between the Coldplay singer and Johnson since this fall. Back in November she was seen in the sound booth during a Coldplay concert, and reportedly accompanied him on a trip to Israel to take in a Nick Cave concert in Tel Aviv. And skeptics were dealt another blow in December when a source all but confirmed the relationship to Us Weekly, saying, "Dakota and Chris are definitely dating. They've gotten to know each other really well and are very comfortable [with] one another. Chris sends Dakota his music to get her opinion. It's more than just a fling." And on Sunday, the couple also took their PDA to the beach, being spotted hand-in-hand in Malibu, California.
Now all the couple has to check of their going public list is a red carpet appearance. Maybe they'll make it couples-photo official for Fifty Shades Freed?
Related: Why Dakota Johnson's Blank Instagram Is a Total Power Move