New Fifty Shades Freed Trailer Has a Major Plot Twist
Spoiler: Ana's knocked up.
---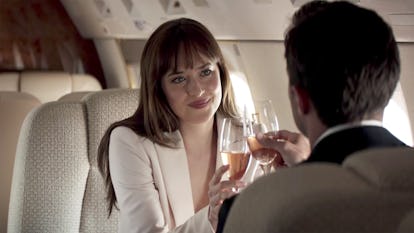 Universal Pictures
Fifty Shades Freed, the final part of the movie adaptation of the Fifty Shades trilogy that started with 2015's mega hit Fifty Shades of Grey and continued with last year's Fifty Shades Darker, will be released on Valentine's Day of this year. And on New Year's Day, fans got an early look at one of the most pivotal moments in the story: Anastasia Steele Grey (Dakota Johnson) finds out she's knocked up. By Christian (Jamie Dornan), one assumes.
Because this is Mrs. Grey, she doesn't just pee on a stick, or miss a period. She finds out from some unseen woman in a well-appointed office. The big moment doesn't come til the very end of the trailer, which mostly features footage we've already seen of Ana Doing Things. There's Ana Not Being Threatened By An Architect, Ana Being Literally Threatened By Her Old Boss, Ana On The Phone, Ana On The Beach, Ana At The Wedding, Ana In A Hallway, Ana Driving A Car, and of course, Ana Making Sweet, Sweet Love To Christian.
We also get a quick flashback recap of the first two movies, how Ana was all reserved and virginal, and Christian was all uptight and sad, and then they fell in love and decided to be happy kinksters together because isn't that better? Of course, it is. Watch the trailer above, and stop pretending you're not going to see this movie.
Related: Watch the Fifty Shades Freed Trailer
Zac Efron's Body Transformation From Lanky Teen Heartthrob to Baywatch Stud
In A Hawaiian inspired button-down with cuffed sleeves, the lanky young actor appeared on the red carpet of the WB Networks' 2004 All Star summer Party.

Jean-Paul Aussenard
A year laster and still without any noticeable muscle definition, Zac sported another button down with cuffed sleeves at the breakfast with the cast and crew of 'High School Musical'.

Michael Tran Archive
The teenage heart throb flexed his muscles on the red carpet at the premiere of 'High School Musical 2'.

Jason Merritt
At the 2007 Madrid ' Hairspray' Photocall, we begin to see the peak of slight muscle definition in what later becomes Zac's infamous athletic body.

Lalo Yasky
Still with his muscles on the lean side, Zac rocked a fitted mode-sleeve button down and vest to the 2008 Teen Choice Awards.

K Mazur/TCA 2008
Tanned and visibly chiseled a year later at the Teen Choice Awards, Zac opted for his go-to classic button down with cuffed sleeves look.

Jeffrey Mayer
While visiting Maui in June 2010, the young stud showed off his hot physique after taking a dip.

Splash News Online
Zac soaked up the sun in Maui in June 2010 – shirtless of course.

Splash News Online
In 2011, Zac modestly showed off his biceps in a simple black tee while sitting court side at a Lakers game.

Noel Vasquez
Zac relaxed to music shirtless at his Sydney hotel in April 2012.

INFphoto.com
While filming his 2014's 'Bad Neighbors', the actor frequently showed off his incredibly buff body on and off the big screen.

GONZALO/Bauer-Griffin
With the star being in the best shape then ever before, he couldn't resist showing off his chiseled abs and biceps on the 2014 MTV Movie Awards stage.

Frederick M. Brown
While filming 'We are your friends', Zac showed off his sculpted bod again while running on the beach.

TSM/Bauer-Griffin
Acting out a scene from his new film 'Bad Neighbors 2' at the 2015 MTV Movie Awards, the stud shows off his hot bod once again under a green fatigue jacket.

Paul Archuleta
Zac was spotted walking the streets of Los Angeles last year flexing his muscles without even trying.

RB/Bauer-Griffin
While filming his newest movie 'Baywatch' Zac shows off all of his hard training work by shooting shirtless scenes showing of his incredibly ripped bod.

© 2016 FameFlynet, Inc – Beverly Hills, CA, U.S.A.