Dakota Johnson and Chris Martin Are "Definitely Dating"
The reported couple traveled to Israel together.
---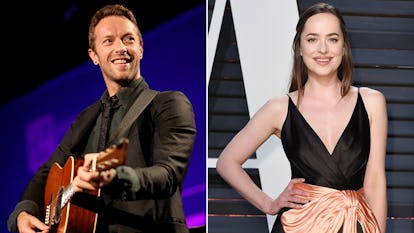 Christopher Polk/Presley Ann Slack/Patrick McMullan/Getty Images
In the somewhat unlikely competition between Chris Martin, Jon Hamm, and Elon Musk for Dakota Johnson's affections, Martin has reportedly emerged victorious. After Johnson and the Coldplay frontman were spotted spending time together in Israel last month, sources say the talented pair are officially a couple. "Dakota and Chris are definitely dating," one source told Us Weekly. "They've gotten to know each other really well and are very comfortable [with] one another. Chris sends Dakota his music to get her opinion. It's more than just a fling."
Johnson, 28, and Martin, 40, traveled together to Israel in late November to attend one of Nick Cave's controversial Tel Aviv concerts. During this trip, they also reportedly got dinner with the Australian musician at Yam Sheva restaurant in nearby Herzliya. "They came in and they were really, really nice, like extremely nice. It was a surprise," an eyewitness at the restaurant told Us Weekly. "They sat with Nick Cave, too. I didn't see them kiss or hold hands or anything like that. They ordered some starters and not a lot of food."
The duo were first spotted getting to know each other over dinner at Sushi Park in Los Angeles in October. "Chris and Dakota walked in together and sat at a table for two tucked away in the corner. They seemed very happy to see each other and immediately jumped into conversation," an eyewitness told Us Weekly. "Chris was very charming and personable. His face lit up when he was talking to her. He hummed a little bit and asked her what she thought of a song. She clearly loves his music and was really into it. They were flirty and laughing the entire meal. He paid for dinner and held the door for her. They both thanked the chefs on the way out."
Earlier in October, the Fifty Shades Freed star was linked to Jon Hamm after they were spotted grabbing drinks at the Viceroy Central Park hotel in New York City. "They seemed to really be enjoying each other's company," a source said of the two actors, who were also photographed together at Elton John's 70th birthday party in L.A. in April.
Also in October (clearly, a busy month for celebrity dating rumors), after the gossip mill was already abuzz with the possibilities of a Johnson-Martin or Hamm-Johnson courtship, Elon Musk was rumored to have attempted to throw his hat in the ring: A source told Page Six that the SpaceX founder and CEO had traveled all the way to Brazil to pursue Johnson. "He's definitely on the prowl and flew down to see Dakota," the insider said. But Musk's rep denied the reports, telling the outlet that Musk "knows Dakota and obviously wouldn't need to fly to Brazil if he wanted to see her." Sure, if you say so.