Dakota Johnson and Jon Hamm May Be Our Latest Celebrity Couple
Time for some Fifty Shades fan fiction.
---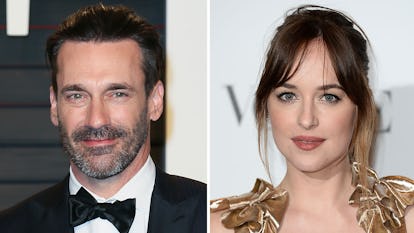 David Livingston, Jeff Spicer/Getty Images
Jon Hamm and Dakota Johnson might be in a relationship. Cue the BDSM joke or, alternatively, something about whiskey and nostalgia. Truly, so many options.
The romance rumors seem to stem from a shared drink they enjoyed on Thursday at the Viceroy Central Park. According to a source for Page Six, "They seemed to really be enjoying each other's company." Which makes sense, since they appear to both be enjoyable people. There's also photographic evidence the two actors at least shared a moment at Elton John's birthday celebration this past April.
Hamm has been the subject several romance rumors since his split from Jennifer Westfeldt two years ago. This June, he was spotted outside a movie theater with Jenny Slate, inspiring some to dub the would-be couple #Slamm. Before Slate, Hamm was linked to Kate Beckinsale (the result of another movie might-have-been-a-date). Johnson broke up with her long-term boyfriend Matthew Hitt back in 2016.
Of course, it's possible that the connection between Hamm and Johnson is only platonic. But if a romance between the two could even possibly lead to Don Draper making a cameo in an upcoming Fifty Shades of Grey film, let's hope there are plenty of candlelight dinners in their future.
In other Fifty Shades news—the next film is coming out in February, mind you, so there are still many months of this to come—the book's author announced today that the latest book in the series will be coming out in just a few weeks. Darker: Fifty Shades Darker will see the story from Fifty Shades of Grey as told by Christian Grey, the male protagonist of the series, and will be released on November 28th.
Sounds like if Jamie Dornan, who portrays Grey opposite Johnson in the films, does not feel like signing up for the new book's inevitable film adaptation, there already may be a certain former mad man waiting in the wings.
Related: Jon Hamm Continues Run as Comedy's Darkest, Handsomest Character Actor as an Archangel In Amazon's Antichrist Comedy
Margot Robbie Dressed Up as James Franco in "Spring Breakers" For Halloween, and Loved Getting Away With It