Jamie Foxx Walked Away From an Interview After Being Asked About Katie Holmes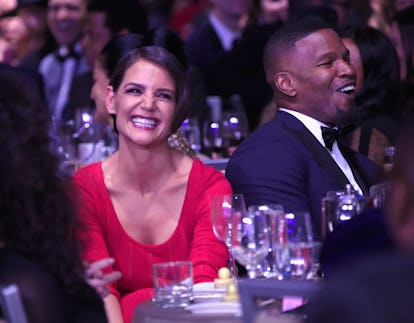 Kevin Mazur
Katie Holmes' relationship with Jamie Foxx is truly the opposite of her marriage to Tom Cruise. There has been no couch-jumping, no Vanity Fair covers, no embarrassing public displays of affection. Though the pair have been dating for five years and recently attended a pre-Grammys awards dinner together, both actors refuse to comment on their courtship, and when Foxx was asked about it in an interview at the NBA Celebrity All-Star game, he simply took off his microphone and walked away.
SportsCenter's Michael Smith, referring to paparazzi pictures of the pair playing basketball together in Los Angeles on Valentine's Day, shot his proverbial shot in an interview with Foxx and asked him, "I know you've prepared and I saw pictures. Did you and Katie Holmes play basketball for Valentine's Day? Like some real Love & Basketball?"
From the court, Foxx smiled, looked away, and removed his headset; someone helped him unclip his mic and it. Was. Over.
Foxx's action says more about their commitment to each other than any answer he could have given. They are really, truly, not seeking the spotlight or playing games with the media. Foxx could have easily made some cheeky remark, given a coy non-answer or gotten mad at Smith for going personal, but instead he simply removed himself from the situation like, well, a true gentleman who does not kiss and tell.
Related: Katie Holmes and Jamie Foxx, the World's Most Elusive Celebrity Couple, Were Spotted Canoodling at a Pre-Grammys Party