Jane Fonda and Lil Nas X Built a Treehouse For Gucci's First Sustainable Line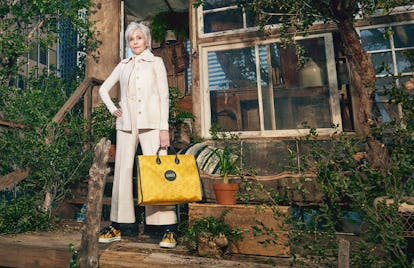 Image courtesy of Gucci.
Surely just about everyone looks at images of people hanging out together and feels a pang of nostalgia for the pre-pandemic past. At least, that's probably the case when one looks at the latest Gucci campaign.
Starring both Jane Fonda and Lil Nas X, Gucci Off The Grid is the beginning of the brand's sustainable arm, Gucci Circular Lines. Using as many recyclable and organic materials as possible, the collection was made with saving the planet in mind.
In the video for the campaign, shot by Harmony Korine, Fonda and Lil Nas X trod past skyscrapers to gather as many twigs, branches, leaves, and string as they can to build a home in the forest. Eventually King Princess, Miyavi, and David de Rothschild also join in on the treehouse building fun.
According to a press release from Gucci, Alessandro Michele, the brand's creative director, was inspired by the concept of teamwork as it pertains to saving our planet together. "The collection is the result of teamwork; everybody brought something to it. And in the campaign, too, there is this idea of dialogue among people building something new," he said. "I imagined that we could build a treehouse in a city centre, all together, like kids playing in the park. Because all of us need to build this house or to find out that our planet exists, even where it seems it's not there, or it's far away."
And to anyone who thinks Fonda was a random choice for the campaign, think again—her Fire Drill Fridays have sparked a conversation about changing environmental legislation in the United States, and she's even pivoted towards creating environmentalism content on TikTok, so there couldn't have been a better choice to star in the brand's first big step towards sustainability.
Related: Jane Fonda Joins TikTok to "Work Out for the Planet"