Jane Fonda Reveals She Had Cancerous Growth Removed From Lip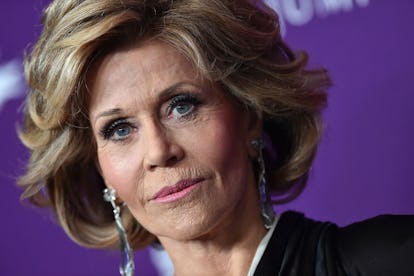 Axelle/Bauer-Griffin/FilmMagic/Getty Images
Jane Fonda isn't going to let what she calls "a little cancer" stop her from doing anything.
The Grace and Frankie actress appeared on AOL Build on Tuesday to promote the upcoming fourth season of the Netflix original series with a bandage on her lower lip.
"I just want to explain the bandage," she said candidly at the start of the interview, before the host could even ask a question. "I just had a cancer taken from my lip. I thought it was going to heal in time before I came before you, but it's fine. I just want to explain it. I don't normally go around like this."
"It's amazing that you still came," he replied, acknowledging that many celebs (and, let's be honest, non-celebs) would skip out on being in front of a camera until they'd healed.
"The world is falling apart. What's a lip?" she quipped.
The 80-year-old actress has always maintained a no apologies, no-BS attitude toward her appearance. In November, she appeared in an un-retouched photoshoot for Town and Country, and has been open and honest about the fact that she's had plastic surgery — though any journalist who wants to ask her about it when there are more important things to talk about best be careful. (Just ask Megyn Kelly, who was promptly shut down after doing just that last year).
In a later interview with Howard Stern, the actress revealed that she was going to be fine, ABC reports, and she's even found a "clever way" to disguise the bandage until it's healed:
According to People, Fonda also had a tumor removed from her breast in 2011. At the time, her reps told the magazine that she was "100% cancer free" and that "she's completely fine and it's business as usual for her."
Looks like it's "business as usual" this time around, too, but we wish her a speedy recovery.
Related: Jane Fonda's Wardrobe Is For Sale (Including Her Iconic Leotard)
Jane Fonda, Actress and Activist, Is a Style Chameleon
Jane Fonda had style right from the start—as evidenced by this chambray shirt and pants ensemble in 1956.
Photo by Getty Images
Kate Middleton may have wowed onlookers with her post-pregnancy style, but it's hard to beat the red coat and knee-high boots Fonda wore leaving Paris's Belvedere Hospital with her new daughter Vanessa in 1968.
Photo by Getty Images
A black hat, big sunglasses, and boot-cut Levi's? Jane Fonda invented easy, off-duty style.
Photo by Getty Images
Quintessentially '80s, the actress's fuchsia blazer, floral bustier, and super-high-waisted trousers were surely a hit at the American Film Institute celebration of Gregory Peck in 1989.
Photo by Getty Images
Fonda embraced the early '90s in the decade's best trends—a windbreaker, red turtleneck, and big, curly hair—at StanleyK. Sheinbaum's 70th birthday celebration.
Photo by Getty Images
Stepping out with her third husband Ted Turner, Fonda was a vision in a black and white checked print gown and black silk gloves at the 1995 Academy Awards.
Photo by Getty Images
Later that year, the actress epitomized Beverly Hills-chic at the Television Critics Association Awards Dinner with a white high-necked dress, beige pumps, and brown sunglasses.
Photo by Getty Images
Easing back into the spotlight after a nearly 10-year hiatus from acting, Fonda stunned in a simple black dress and gloves at the 2004 Golden Globe Awards.
Photo by Getty Images
Aside from her acting and activism, Fonda is known for being a fitness fanatic. So it's no wonder she's continued to embrace form-fitting styles, like this all-black look from 2011. If you've got it, flaunt it.
Photo by Getty Images
Over the past few years, the actress has adopted a more covered-up approach to red carpet wear—without sacrificing style, of course. In a zebra-printed jacket and black flared pants at the 2011 Women in Entertainment Breakfast, Fonda stole the show.
Photo by Getty Images
The actress gave the younger generation at run for their money at the 2013 Berlin International Film Festival in a gold sequin dress and coordinating tan fur. Stay golden, Jane.
Photo by Getty Images
"I took one look at that Balmain jumpsuit, and I said, 'That's it!'" Fonda explains in W's June/July issue. When you know, you know.
Photo by Getty Images