Dear Frances, What Are Those Boots Bella Hadid Likes?
The elegant, sculptural footwear label launches stateside this season, but it's already a favorite of the Hadids and Kendall Jenner.
---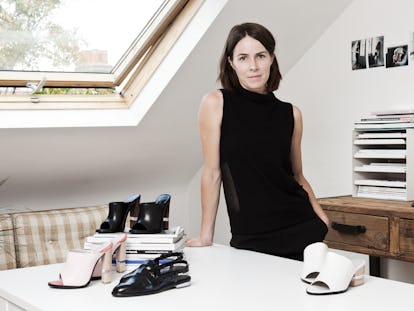 It's no surprise that Jane Frances studied furniture design and sculpture — her footwear designs, under the label Dear Frances, are both elegant and highly constructive. "Shoe design is like architecture for the foot," she says. Based in London and produced by hand in Italy, Dear Frances focuses on textures and materials, like crushed velvet and etched leather, to elevate the classic designs. Though it originally launched in Europe in 2014, it's available online in the U.S. as of last month. Better hurry though — it's already been spotted on the likes of Kendall Jenner and Bella Hadid, which means it's sure to sell out fast. Here, Frances talks footwear trends, the fall line, and her early success.
How did you get your start in fashion? What was it about footwear that you loved? I love tonal colors, fine lines and unique texture combinations. I particularly love their application in fashion and always have, as long as I can remember. I was drawn to footwear design during my studies, when I developed a particular interest in symmetry, as well as architecture and furniture design. Each of these studies lend themselves naturally to shoe design and I quickly fell for the more sculptural and technical side of footwear. In a sense, shoe design is like architecture for the foot — it requires a strong technical understanding and from the very beginning I wanted to know more.
What was it like getting your business off the ground? You quickly learn that there are many aspects involved to giving your label the best chance at success — everything from sales to production, PR to logistics and so on. Coming from a branding and design background, I knew that it would be important that I surround myself with a strong team who have particular skill sets. That's actually been one of the most enjoyable parts of what we do, working with people who are passionate and driven and are constantly thinking outside the square.
What was the buildup to launching Dear Frances like? We did a lot of planning and testing prior to launching Dear Frances in 2014. I had a clear idea of what I wanted the label to be creatively and was also interested in building on my technical skills, so I took up an internship at a boutique Italian footwear factory and spent a great deal of time working there, refining my skills and learning from some incredible craftsmen.
What style is most popular with your customer? Our signature Float Boots and Poser Mules are two of our most popular styles. And also the Spirit Boots have been incredibly popular this season so we'll be expanding this range and introducing them in a selection of beautiful new colors and textures for Fall.
What accessories trends are you seeing among women right now? The block heel is having a great resurgence this season, with women looking for easy elegance and shoes they can wear around town all day, through to night. Also we're finding mules are incredibly popular for spring — from evening mules to the more demure and refined styles — they're definitely a best seller for us this season!
Has there been a favorite moment since you launched? There have been several! I love the design development each season and the creative process involved in new collections — this is a constant favorite for me. Launching in the US was great moment for us, we were thrilled to bring the spring collection stateside to our American customers and it has been wonderful to see the collection resonating so well here. It has also been fantastic to see US celebrities such as Kendall Jenner, Bella Hadid and other style influencers embracing the brand so quickly here!
Let's talk Fall 2016. Where did you get started, and what did you want to communicate? It started with a color palette that was inspired by some time I spent in Switzerland: The beautiful natural tones, deep blues, forest greens and pops of bright color. The soft crushed velvets and laser-etched leathers came from my time in Switzerland too, but I was also interested in translating these textures and making them relevant to the Dear Frances woman. In the end, Fall was about bringing this sense of calm – which I experienced on my travels – to the modern woman. Creating a time of reflection, of calm in our busy lives. We placed great focus on texture and tone, working with materials and colors which capture this reflective theme and which are reminiscent of the natural world.
Photos: Dear Frances, What Are Those Boots Bella Hadid Likes?
Jane Frances. Image courtesy Dear Frances.
Dear Frances Spring 2016 lookbook. Photo courtesy Dear Frances.
Bella Hadid in Dear Frances 'Spirit' boots in Rome, Italy. Photo by @dear_frances.
Bella Hadid in Dear Frances 'Spirit' boots with Kendall Jenner in Rome, Italy. Photo by @dear_frances.
Kendall Jenner in Dear Frances 'Spirit' boots in Los Angeles, California. Photo by @dear_frances.