Jane Holzer: Factory Made
In a new exhibition, Andy Warhol's first and most glamorous superstar, shows her incredible stuff.
---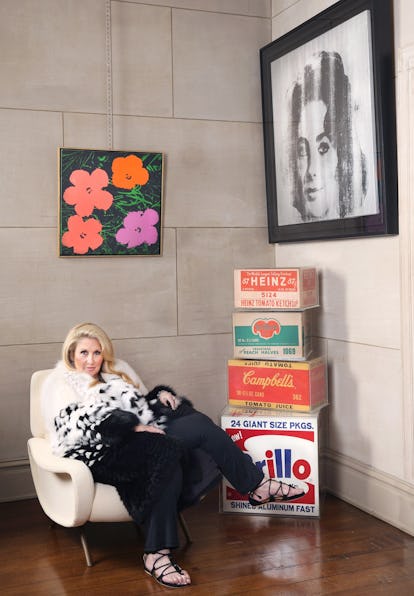 Photographer: Gus Powell
Jane Holzer, the lion-maned Pop art icon–turned–real estate investor, has lost track of how many Andy Warhols she owns. "I bought one last week," she says with a shrug. "I'm addicted." Suffice it to say, a quick glance around her six-story town house on Manhattan's Upper East Side reveals a museum-worthy cache that includes silk screens of her likeness lining the stairwell; Brillo and Campbell's Soup boxes piled high in the dining room; a Liz painting that hangs over the library fireplace; a Mao positioned above her bed; and, opposite it, a few Flowers, which were the first Warhols she purchased. "They were on the floor when I first walked into the Factory," she recalls. "Andy and Gerard Malanga were squeegeeing them." She ended up buying nine for $200 a pop. "Leo Castelli [Warhol's dealer] was just giving them away!" she hoots. "I should have taken more."
That was in 1964, and Holzer was, as she puts it, a "bored" 23-year-old Park Avenue wife and socialite. Women's Wear Daily, which tracked her every move, had (lastingly) dubbed her Baby Jane; Tom Wolfe had anointed her Girl of the Year; and Diana Vreeland, who later called her "a blaze of golden glory," had featured her in the pages of Vogue. She met Warhol while walking down Lexington Avenue. "He said to me, 'Do you want to be in movies?' I said, 'Yeah.' We started shooting Soap Opera two days later in a run-down apartment above P.J. Clarke's."
Dazzled by her good looks and Palm Beach–bred glamour, Warhol turned Holzer into one of his superstars, featuring her in 10 of his famous silent-film Screen Tests. (She was beat out only by Nico and Lou Reed, who each were in 11.) In the process, he offered her a thrill ride through the counterculture that at times got a bit bumpy. Relatively straitlaced, Holzer didn't spend much time at the drug-fueled Factory. "It was full of freaks," she explains. But her relationship with Warhol, which is now the subject of "To Jane, Love Andy," an exhibition at the Norton Museum of Art in West Palm Beach (through May 25), quickly evolved from a working one to a deeply intimate bond and lasted until his death in 1987. "He was amusing," she says simply. "Our life together was amusing."
The show—which gets its title from the inscription on many of the works Warhol gave Holzer for Christmas over the years—features his early paintings and sculptures, a series of her Screen Tests ("He didn't give much direction," she confesses. "He'd say, 'Don't blink,' and then walk away!"), candid shots from the Factory, and her old couture ensembles from Coco Chanel, Cristóbal Balenciaga, and André Courrèges. "At 21, I took my trust fund and went to the collections in Paris," Holzer recalls. But such shopping excursions are long past. "Who can afford couture anymore? I buy my clothes now at Target."
And although her days with Warhol are also long gone, Holzer keeps herself surrounded by his memory. In addition to accumulating his work—"I'd buy more if I had a bigger budget and the room for them"—Holzer, who helped produce Harmony Korine's Spring Breakers, is now consulting on a film about Warhol's life. Who should be cast for the lead? "I think Ethan Hawke would make a good Andy."
Photos: Jane Holzer: Factory Made
Jane Holzer at home, surrounded by some of her favorite Warhol pieces.

Photographer: Gus Powell
Warhol and Holzer, 1986. Photograph courtesy of Getty.
Behind the scenes of Warhol's film Camp, 1965. Photograph courtesy of Corbis.
Holzer in Vogue, 1964. Photograph courtesy of David Bailey.