Cinq à Sept's Jane Siskin on Happy Hour Style, the French Way
How the founder of the New York-based brand is channeling the romance in-between five and seven o'clock.
---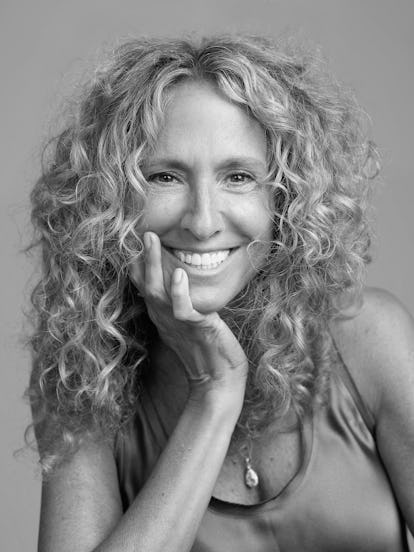 Cinq à Sept, the New York-based fashion brand founded by Jane Siskin last year, is French for "five to seven," and embodies the the time in-between late afternoon and early evening, "When streets are awash in the warm glow of the vanishing sun and anything is possible."
Originally from New York, Siskin got her start at 7 For All Mankind and Elizabeth and James, but started her own line for the sophisticated, modern woman who wants to look a little sexy — even at happy hour. Last season, Cinq à Sept showed at the classic New York French bistro, Raoul's, and Wednesday morning, the Spring 2017 show took place at Dirty French. Of course, there were plenty of croissants to go around, plus flowing silk, ruffles, and leopard-print for a little edge.
Three words that describe your brand's aesthetic: Spirted, Sexy, and Romantic.
What do you hope to convey for spring 2017? The charm of the unfamiliar.
Standout pieces you're super happy with: Embroidered camp shirt, all our bomber jacket updates, and the rose print is a big love.
Three things pinned to your most recent mood board: Vintage kimono from Paris, a photo of Harajuku girls from our most recent trip to Tokyo, and an image of Helena Christensen from the 90's in a double layer printed dress.
What's your design process like? Prints, fabrics, and color first. That is where the collection is born.
Style icons/inspirations: Rihanna, Bella Hadid, and Monica Bellucci in the film Malèna.
Fashion pet peeve: Dirty shoes.
Daily uniform: My go-to outfit is a novelty trouser and white t-shirt.
Night out look: I get dressed from the shoes up and always incorporate one sexy piece.
Beauty secrets (makeup, hair products, bathroom rituals, etc.): Ole Henriksen lavender body oil.
Best recent discovery: Being dairy free; my skin has never been better.
Last purchase: Céline rubber sole brogues.
Most prized possession(s) in your closet: All of my Yohji Yamamoto trousers and my Saint Laurent leopard print booties.
Something you're looking forward to wearing this fall: My Louis Vuitton fighter platform boots.
Secret to surviving Fashion Week madness: As much yoga as I can squeeze in.