See Janet Jackson's Powerful 2018 Billboard Music Awards Speech and Greatest Hits Performance
"Women have made it clear that we will no longer be controlled, manipulated, or abused."
---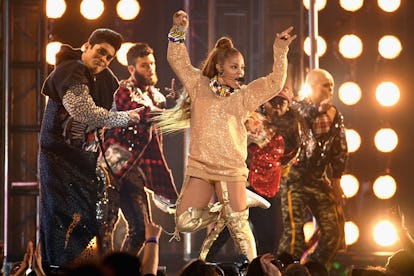 Ethan Miller/Getty Images
Anyone who has paid the slightest bit of attention to Janet Jackson's nearly 40-year career already knows that she's a bona fide icon: Her legacy spans television and music, earning her 35 awards, and she has sold more than 100 million records. At the 2018 Billboard Music Awards on Sunday night, she further cemented her status in music history by becoming the first black woman ever to accept the Icon Award and delivering an epic performance of some of her greatest hits. (This was her first television performance in nearly a decade, by the way.)
Taking the television stage for the first time in almost nine years, Jackson wowed the crowd with some of her most famous hits of all time. Opening with those famous three words—"Gimme a beat!"—the 52-year-old kicked things off with her legendary "Nasty," wearing a full-blown gold ensemble, complete with thigh-high, lace-up gold sneakers, and looking like she never left the stage. After hooking the crowd with "Nasty," Jackson moved on to the less commercially successful but equally energetic song "Throb," leaving the energy—and the sexual innuendo—at an all-time high.
If the crowd was at all disappointed that Jackson performed only two of her greatest hits, she made up for it with the triumphant return of Rhythm Nation. She wasted no time in launching into a dance break, proving that her moves are as sharp as ever. Naturally, the crowd and the greater Twitterverse were taken with Jackson's killer moves, with everyone from Tyra Banks to Andy Cohen dancing out of their seats and tweets firing off at a rapid pace. Take a look:
But the goosebumps didn't stop when the performance came to an end. Jackson went on to deliver a chills-inducing speech after accepting her award from Bruno Mars, who echoed all of our feelings when he bowed down in her presence.
"I'm deeply humbled and grateful for this award. I believe that for all the challenges, for all our challenges, we live at a glorious moment in history," Jackson said. "It's a moment when, at long last, women have made it clear that we will no longer be controlled, manipulated, or abused. I stand with those women—and with those men equally outraged by discrimination, who support us in heart and mind."
"This is also a moment when our public discourse is loud and harsh," she continued. "My prayer is that, weary of such noise, we turn back to the source of all calmness. That source, that source is God. Everything we lack, God has in abundance: compassion, sensitivity, patience, and a boundless love. So, again, I want to thank all of you for this honor, and I thank God for giving me the precious energy that lets me live my life as an artist who every single day seeks to expand my capacity to love. Thank you so much."
Jackson left the stage to the crowd chanting her name. Neither her performance nor her speech will soon be forgotten. See a portion of it, below:
Related: Janet Jackson Appreciation Day Is Gloriously Trending on Twitter