Janet Mock Shares Her Hollywood Syllabus
What to read, watch, and listen to before diving into Hollywood on Netflix May 1.
---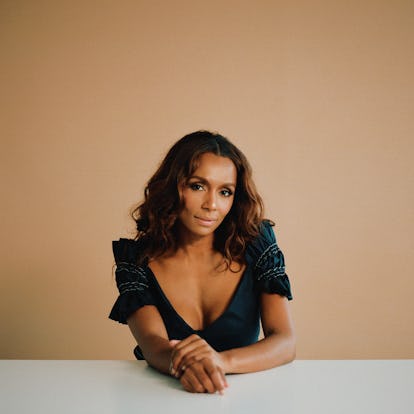 Michael Beckert
Sex, scandal, and celluloid dreams are the subject of Ryan Murphy's new Netflix series, Hollywood, which comes to the streaming platform on May 1.
Hollywood's plot concerns the gilded age of Tinseltown: the 1940s, back when that iconic sign overlooking Los Angeles had a few extra letters and before a then-unknown, corn-fed Midwestern called Roy Scherer, Jr. was an internationally known heartthrob who went by the name of Rock Hudson.
The limited series offers a revisionist take on what actually happened with the Hollywood studio system and its dream factory, while leaving the general blueprint of the era untouched. But what if you don't know much about post-World War II Hollywood and the starlets who ruled the silver screen in mid-century American cinema? Can you still enjoy the show? Of course you can, but it might be helpful to brush up a bit on your history, so that the easter eggs left for you within the Netflix series don't go way over your head.
Enter Janet Mock, a writer, director, and executive producer of Hollywood, as well as all-around pop culture expert, who can tell you exactly what to familiarize yourself with before diving into the show. Consider her syllabus a crash course in everything you need to watch, read, and listen to about the golden age of Hollywood before streaming the series on Netflix.
Hollywood was the exact dose of escapism I needed while in quarantine. What have you been watching lately?
Of course, like the rest of the world, I've been watching Tiger King. The twists and turns in that docuseries are just beyond. I am researching for a project, watching a bunch of old Bond films because I'm getting ready to do a pitch for a big franchise, so I've been watching the Sean Connery-era Bond stuff. For another project that I'm writing with a friend, we've been watching a lot of dark comedy women ensembles, like 9 to 5 and Steel Magnolias. I've been watching Little Fires Everywhere because I'm obsessed with the pairing of Reese [Witherspoon] and Kerry [Washington] together, and the young actors are just amazing. The girl that plays Pearl? A star is born. Also, Selah and the Spades. I just love almost every single shot in that film. Nothing was wasted. Tayarisha Poe did such an amazing job, and the two lead actresses are beyond, too.
I feel like you're always giving yourself homework! Have you read anything good in this time period?
I haven't been reading a lot. My friend just came out with a collection of essays which I devoured: I Don't Want To Die Poor. I am also getting through Ibram X. Kendi's bestselling book, Stamped From the Beginning, which is about the racial history of America. I'm also reading this novel called Empire of Sin about New Orleans and sex work, because I have another project that I'm developing around that kind of thing.
What are some of the books people should read before they see Hollywood?
I have too many books! One that's probably easy for people to get through, and one that so many people need to have on their coffee table, is Vintage Black Glamour by Nichelle Gainer. The images from then, seeing our people in these black-and-white glamour shots—some candid, some on set, some in-studio, some in a bar—are gorgeous. I think a lot of people will make comparisons between our show and the Scotty Bowers story. It's necessary to read his work, Full Service, if you want to learn about his life as a hustler. He also has a documentary—for people who don't like to read—called Scotty and the Secret History of Hollywood, which I believe is on Amazon Prime.
Of course, biographies of Lena Horne and Dorothy Dandridge are essential. Stormy Weather: The Life of Lena Horne by James Gavin is one that I loved and Lena by Lena Horne, which is her autobiography. Dorothy Dandridge by Donald Bogle is another one. During this era, Katharine Hepburn reigned. So, her memoir, Me: The Story of My Life is a great read. And of course, you can't forget, Rock Hudson is a major character on our show as well, so we pulled a lot from his history and the handoff between him and Henry Willson. We did our own take on it. So, the Henry Willson biography is called The Man Who Invented Rock Hudson and the Rock Hudson biography I enjoyed is All That Heaven Allows. Another book I skimmed but didn't read page-to-page is called The Lion of Hollywood, which is about MGM and Louis B. Mayer. There is also a book by Anne Helen Petersen called Scandals of Classic Hollywood: Sex, Deviance, and Drama from the Golden Age of American Cinema. It's about the gossip at the time, the gossip rags, the scandals, the things that you kind of wouldn't know. It's about the stars and how they were packaged to be pristine, and in gossip rags they were shown a different way, so people had to go in and fix it. Like, Dorothy Dandridge's lawsuit [against Confidential magazine] and all that kind of stuff.
What are the top scandals of the era that you think people should be more familiar with, or that you thought about when developing Hollywood?
There's a great podcast I always listen to called You Must Remember This. She does a really great job at bringing up buried history, and in our series we try to have that same goal of bringing up things that people forget. They did a whole series on Disney's super racist film Song of the South. That's a scandal we bring up in episode five, to show where the gatekeepers, decision makers, and producers at that time, where they thought they should spend their money and how the public reacted. I think a scandal that predates our show but definitely influences the series is Hattie McDaniel and how, the night she won the Oscar for Best Supporting Actress, she wasn't allowed to sit in the auditorium.
Another one will always be the outlaw nature of being a queer person at that time period, specifically being a same gender-loving person or someone who is gender nonconforming. Like, the fact that Katharine Hepburn wore pants alone was enough to launch a thousand headlines. Gender and sexuality was policed at that time, and people's bodies and sexualities had to be contained in order to be properly packaged for a Hollywood studio system, which was millions of dollars.
Even though we could say Lena Horne was our first black woman—or actor, period—to get the glamour girl treatment in the studio system, there were never any roles to showcase what she could do. So we never know what Lena would be able to do because we never got to see that work of hers. We never got to see her engage with anything that was outside of a nightclub scene at the height of her fame and her youth and her beauty. We got to see that with Hedy Lamarr, Bette Davis, Ava Gardner. To me, that's one of the great tragedies of Hollywood. Dorothy Dandridge was able to get more roles, but even then, she was exoticized in a very interesting way that she often pushed back against. After starring in a role, in Carmen Jones—which she got the Academy Award nomination for, making history as the first black actress to get the lead actress nomination—she made the decision to say, 'I don't want to play slaves or servants,' after having just been the center of a picture. We pulled a lot of inspiration from all of those histories. Oh! And the fact that Anna May Wong did not get cast in The Good Earth [due to anti-miscegenation regulations in the Hays Code], and had to sit in the auditorium and watch a white woman win for playing a Chinese woman, should be something that every single person should call Hollywood on and hold them accountable to.
For pop culture savants, or people who are just really, really into the history of this era, these are stories we're familiar with. But not everyone has that same experience with the history—Hollywood will be an entry point for a lot of people. Who was the first star of that era that you felt drawn to and grew to be obsessed with?
I think Dorothy Dandridge would have been the first. The sacrilege of that is that I was introduced to Dorothy through Halle Berry performing her in the HBO film, Introducing Dorothy Dandridge. Then I went into this wormhole that got me to know more about her life. Like many starlets of that time, the great icons, she died at the height of her beauty. I think that's what makes her immortalized in the same way that Marilyn Monroe is immortalized. I think the tragedy is what drew me into her, her daughter, and the fact that she didn't really get to have another major role in the same way she did with Carmen Jones. It really harkens back to what Viola Davis said when she won her Emmy, which is that the only thing that separates women of color from other actresses is the fact that we just don't get the opportunities to show what we can do. I think there is a great injustice in that.
Dorothy was the first, which led me to Lena. Lena is one that I think has been very lasting as influential to me because of how she then was able to use her power as this glamour girl, this woman who had a voice—which she used in a different way to help with the civil rights movement. She got to tell her own story, wield that, and do it on stage and Broadway. She got to be in The Wiz, which is a black classic that we are all very protective of.
And then of course, Katharine Hepburn will always be my most revered, because of the breadth of her work and how many films she was able to do. And she was able to do those films because she was a white woman, she got to have a huge catalogue that spanned decades. I've always been enamored by her gender presentation and the questions around her sexuality, the mythology about her and Spencer Tracy, her linkage to George Cukor, who is a character on our series. She ends up being a pinnacle for a lot of degrees of separation, which I think is fascinating for the time period.
What are some films from that era that you think everyone needs to see in their lifetime?
Carmen Jones, The Philadelphia Story—which was also done by George Cukor—and Gone with the Wind. There are two that I use as inspiration because I had to, in both of my episodes, not only be a director of a TV show, but be a director of a TV show who's also directing a movie. So I looked to Black Narcissus and Casablanca to be inspirations for the shots and cinematography, body movement and composition.
Cabin in the Sky is one of Lena Horne's only films that she starred in. That was a black picture that was done by Vincente Minnelli. I skimmed a little bit of Birth of a Nation—there's only so much of it I could handle—but I needed to see it because I wrote a monologue that ended up getting cut in episode six that dealt with Birth of a Nation. At the time period, the KKK weren't even doing cross burnings until they saw Birth of a Nation, and that film glamorized it by making those white supremacist terrorists heroes. Then, cross burning became a "trick" that they used to terrorize black, brown, Native, and Jewish folks.
In the 1940s, television was still in its fledgling state. Do you have any television series or even radio shows from that time that you think would be useful for people to research before watching Hollywood on Netflix?
You know, I've never done a deep dive into that. It's so funny because I remember when we were in the writer's room and we were talking about the finale, which deals with the Academy Awards, I was the youngest person in the room, so I said something like, "Yeah, when they were watching it on TV, it must have been such a moment to see stars in their homes!" And Ryan was like, "No they listened to it on the radio." I was like, "What?!" [Laughs.] The closest thing would be podcasts now. You're listening to a voice telling stories. It challenges our imagination in a different way; you have to visualize people in situations. But I don't have any recommendations there.
On Pose, the music is so evocative of what was popular in the '80s and '90s, and you have said you have had a hand in selecting some of the songs featured in the show. It's a little bit different with Hollywood, but do you have any favorite albums or musicians from that era?
It's interesting, I listened to a lot of jazz and blues, like Ella Fitzgerald, Billie Holiday, some big band, Louis Armstrong. For me, I don't connect as much to the music that we ended up using in this show. [Laughs.] It wasn't something that I had as much of a hand in. There wasn't once in any of our scripts where we scripted a song. On Pose, we script a song so much and sometimes that'll shape a whole episode. "Never Knew Love Like This Before" in season two, me and Ryan scripted that for the Candy farewell episode. That shaped the entire script.
On this show, the sound definitely transports you back in a very interesting way and to me, it feels very old timey. Sometimes, I'd laugh and giggle because it felt a little camp. The music was more on the nose or something. There's a scene when I shot the boys arriving to do a weekend of tricking to make money to make their movie, and the music played there made me laugh out loud. I don't think it was meant to be comedic, but I think it just transported me to a time when it felt like things had to be more cut and dry for an audience to get a mood. Playing that for a contemporary, present-day audience with no relationship to that time period felt a little more theatrical. I give all the credit to Alexis Martin Woodall, who's our EP. She also Pose's EP and has a heavy hand in the music that's chosen for the time period.
What was the most surprising fact that you learned about the era, a person from that era, or a film?
The Henry Willson story became something that was bigger than what I initially thought we were going to script. Jim Parsons plays him on the series. He and Rock as a duo, those two stories and seeing them fight against each other, seeing Rock open up to him as someone who's going to shepherd his career and seeing how Henry manipulated him in an era before #MeToo. We're in the #MeToo era now, where there's more justice for actors, or anyone dealing with sexual harassment in the workplace thanks to Ms. Anita Hill—of course, gotta bring it back—but seeing how back then there was no justice for that, and seeing what Rock had to navigate through his manager or agent was fascinating and deeply heartbreaking.
On our show, we do a revisionist history of sorts, or we give a more aspirational twist to the decisions Rock could make. We have a more victorious standing up against Henry, but Henry as an out gay man at that time period, navigating this Hollywood system and wielding his power, was a fascinating story that I actually hadn't known about at all until I worked on the show and read the biography on him. A lot of people will be like, "Is this a real person?" And yeah, this is a real person. It also shows how, in terms of victimhood, anyone could have been a predator, regardless of their sexuality or gender, and vice versa with people who have to survive that and live through that like Rock did.
What do you suggest people watch once they finish Hollywood?
I did re-watch Feud, Ryan's other limited series about a similar time period that told stories about the scandals that happened at that time. It's smaller because it's about two women. He decided to put two women not only over 40, but over 70, at the center of a series, and one of the Hollywood arcs that I love is Avis Amberg's arc, played by Patti LuPone. I think that series is a great companion for people who may love this time period and eat it up in seven episodes and are like, "What else can I watch?"
Related: Janet Mock's Pose Directorial Debut Proves She's a Natural Behind the Camera