Japanese Stylist Ryoji Imaizumi Turns Hair Into Art, and Chopsticks into Hair Accessories
With wigs, avant-garde objects, and barbie dolls.
---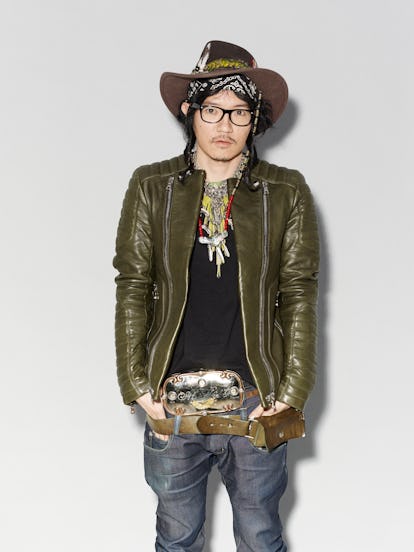 Tokyo-based hairstylist Ryoji Imaizumi, 41, got his start as an assistant at Bumble and Bumble in 1998 in New York City. The salon's former owner, Michael Gordon, took Imaizumi under his wing, eventually helping him break into the fashion industry–styling shoots for various international Vogue magazines as well as advertising campaigns for companies ranging from L'Oreal to BMW. His celebrity client list also includes Victoria Beckham, Pharrell Williams, Laetitia Casta, John Galliano, Charlotte Gainsbourg, and Madonna. If that wasn't enough, in 2002, he started making a name for himself as a "hair magician," using props like Barbies, gummy bears, and toy cars and even trading his comb in for chopsticks.
When did you start hair styling? And when did you start creating hair art? I start doing hair in 1994 and started doing creative hair around 2002.
Beauty icons/inspiration: My inspiration comes from nature and fabrics that inspire me to make outstanding creations.
Beauty motto you live by: Imperfection is my perfection.
What was your big break? My big break came when I first discovered chopsticks as a element to use for hairstyling.
When did you start using chopsticks and what was your inspiration? The idea of using chopsticks just popped into my head when I was working at a shoot that was really busy. I forgot to bring my comb and the only thing I had was some long pins. Then suddenly I was holding pins like chopsticks. That's how it hit me.
How do you practice a style before cutting, if at all? Do you sketch or plan steps out? Sometimes I plan and draw what I want to do, but mostly I'll just do it.
Most memorable clients: Well, I've worked with many famous people but I don't want to say any names because for me it's like politics.
Craziest thing you've put in someone's hair? Toy cars, chili, gummy bears, and other candies.
Longest amount of time you've spent on a look: I was preparing for a shooting where I was the hair and art director. It took me 2 months to prepare all the wigs and the accessories that are made out of hair.
How many wigs do you go through in a month? Year? Where do you buy your wigs? I do maybe 40 to 60 wigs a year, I guess. I get my wigs worldwide.
What do you always have in your styling toolkit? Chopsticks, paint brush, and everything else that a regular hairstylist uses.
What's the secret to keeping things stuck in hair? I braid people's hair and then stick things between the braids.
How do you help them get objects out of their hair? Do your clients where the looks outside the photoshoot? I just take 'em out. My clients never go out like that.
Some of your styling tricks that people can try at home: I dont know if this is a trick or a tip but everybody should just try what they can imagine and see if it fits for them. Trust what you feel.
What's something you want to try next? My biggest goal though is to work worldwide again. Currently I'm only working in Asia, so my next step and wish is to work in America again somehow.