Jared Leto's Silent Meditation Retreat Kept Him From Learning About Coronavirus
12 days ago Jared Leto went into the desert for a silent meditation retreat, and he just walked out into a global pandemic of the coronavirus COVID-19.
---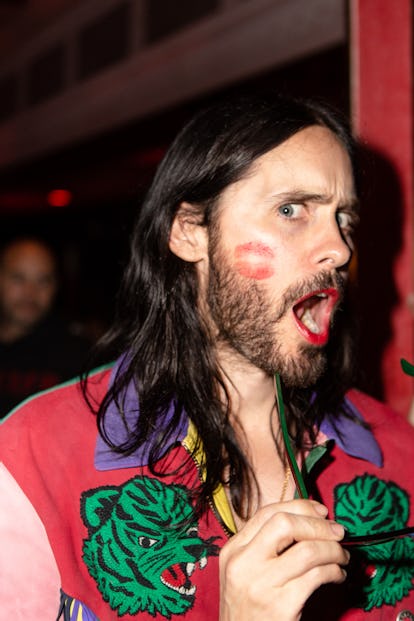 Hagop Kalaidjian, Madison McGaw,
It's hard to imagine a person not knowing that there's currently a global pandemic when there's more news about the rapidly spreading coronavirus seemingly every hour of the day.
In fact, even some celebrities, like Tom Hanks, Rita Wilson, and Idris Elba, have tested positive for COVID-19 in the past week alone.
But Jared Leto, who 12 days ago walked into a silent meditation retreat in the desert, had to learn about the global impact of the virus a little bit later than everyone else. Apparently, he was in complete isolation, with no phone or contact to the outside world. "We had no idea what was happening outside the facility," he tweeted this morning.
Now that Leto has left the desert and is presumably doing the regular kind of social distancing we're all supposed to be doing in our homes, he is catching up on all of the news. "I'm getting messages from friends and family all around the globe and catching up on what's going on," he said, before telling everyone to stay safe.
Leto is not the only person who was in the dark about the severity of COVID-19 this month. It was announced that contestants on Big Brother Germany have been isolated since February 6 and will soon begin learning about coronavirus from the producers of the show. Hopefully, like a handful of television series and films have in the past few days, other reality-television series that require isolation from the "real world" will halt production and do what they can to slow the spread of the virus across the globe.
At the end of the day, though, Leto can't be blamed for finding out about how serious the coronavirus is after everyone else just because he was meditating in the desert. In fact, meditation is one of the recommended activities for dealing with the stress of being cooped up in your house all day while practicing social distancing. And as long as he was sitting a solid six feet away from everyone else, he was still doing his part to prevent the spread of illness out there in that dry, barren land.