Jared Leto Is Spending His Quarantine Watching Tiger King
And dressing up like Joe Exotic.
---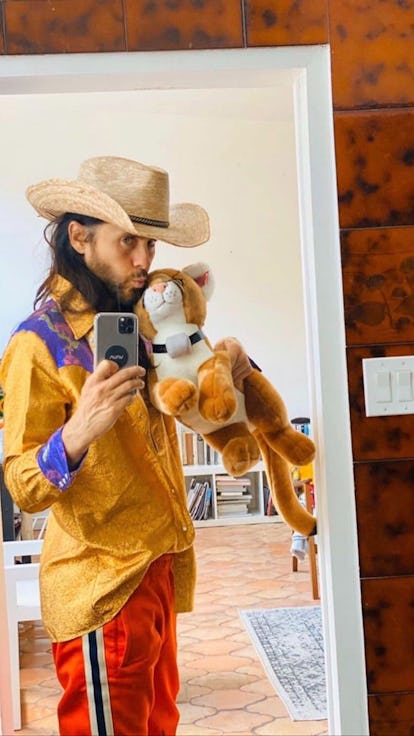 Photo courtesy of Jared Leto/Instagram Stories.
Shortly after emerging from a 12-day silent meditation retreat in the desert, Jared Leto has fully submitted to the fact that he must be quarantined in his home, away from the coronavirus, just like everyone else.
Like many others in quarantine right now, Leto has turned to Netflix to fill his days and nights trapped inside the house, and, of course, he is watching Tiger King, the six-part docuseries about an eccentric big cat owner named Joe Exotic and his alleged murder-for-hire plot against Carole Baskin, CEO of Big Cat Rescue.
What better way for Leto to practice social distancing than to host a watch party (as part of his #JaredLetoCinemaClub) and live tweet the series with his social media followers? Not only did Leto live tweet the series, he also cosplayed Joe Exotic, donning a cowboy hat and holding onto a (plush) tiger in his home.
Since the release of Tiger King, the show's star, Joe Exotic, has sued the government for $94 million and a series about Carole Baskin—whose former husband remains missing—has been greenlit and set to star Kate McKinnon. (The role of Joe Exotic is still up for grabs.)
Leto is not the only celebrity catching up on the stranger-than-fiction docuseries about murder, polygamy, and big cats. Kim Kardashian has asked her followers what they think of Carole Baskin and her missing husband, Cardi B watched a couple episodes before she got, uh, distracted, and Chrissy Teigen has already seen it all.
If you missed Leto's Tiger King analysis on Twitter last night, rest assured there will be more watch parties to come in the future, as he only live tweeted the first episode, and there are five more to go. And when you're finished with Tiger King, here's a multimedia guide to the podcasts, books, and documentaries you need to watch next.
Related: Jared Leto Was Too Busy Meditating to Hear About the Coronavirus