New York Posts
Jarvis Derrell, aka She Has Had It, finds glory in the city's fashion doozies.
---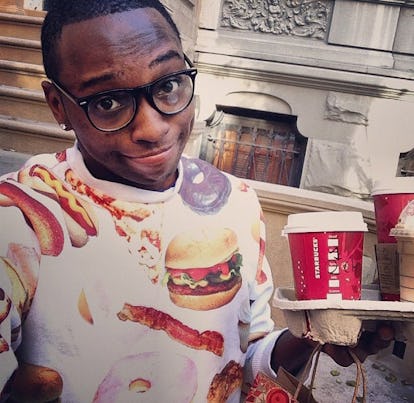 She Has Had It, the Instagram handle and blog of 26-year-old Brooklynite Jarvis Derrell, is a relentless exercise in exposing the pedestrian peacocks of outrageous taste. And despite (or because of) Derrell's eye for capturing New York's most lovable hot messes—a hipster passed out on the subway wearing a fur blanket ("serving us some serious Duck Dynasty holyghost fur REALNESS hunty"), an elderly woman drinking a cocktail at the gym ("I'mma pause this 'Sweatin' With Betty White' workout and have me a Majik Margarita on Monday!!!"), a male security guard who, as he scratches his back, reveals thong underwear ("#victoriassecret #actually #victorslie")—the showcase of sartorial schadenfreude has developed a cult following among the likes of Naomi Campbell, Zac Posen, and Marc Jacobs. "It's about telling people's stories," Derrell says. "Even if they're just made up in my head."
It's his own down-and-out life story that affords Derrell the gleeful authority to extrapolate on the lives of others. In 2009, the Florida State University musical theater student turned his back on his religious Floridian roots and relocated to Bushwick with just $50 to his name. An aspiring singer, writer, and stylist, Derrell would zigzag along the J subway line in search of whatever work he could find. He started snapping pictures of unsuspecting passengers and posting them on Facebook and later on Instagram, where he now has more than 30,000 followers.
Derrell's infectiously over-the-top blend of church banter, gay-nightlife slang, and ratchet terminology has caught on. "People will be inspired and hashtag #shehashadit now," he says. "I get thousands of pictures a day." And despite all the needling, Derrell, who is currently developing an interview-format television show with VH1 and has a book deal in the works, maintains he is not a cynic. "She Has Had It is a love letter to the city—and all the hot messes, nonequity hot messes, and 'kween' bees that make up the place."
She Has Had It's Jarvis Derrell . Photograph courtesy of Jarvis Derrell.
Photograph courtesy of Jarvis Derrell.
Photograph courtesy of Jarvis Derrell.
Photograph courtesy of Jarvis Derrell.
Photograph courtesy of Jarvis Derrell.