Mad About Wu
With the inauguration hype behind him, Jason Wu is firing on all cylinders.
---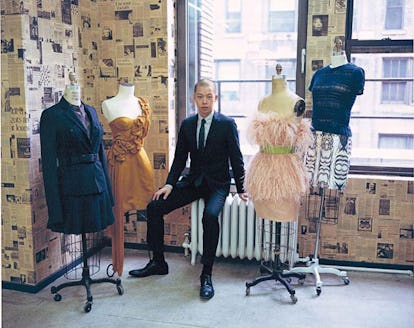 What a difference a year makes.
A cliché perhaps, but one perfectly suited to Jason Wu's remarkable ride. As the designer retraces the steps of his short career and expounds on a host of new developments, those six tidy words apply well. Few other designers have spent the past year on such a warp-speed upswing, and none has gotten as laser-focused a publicity boost as Wu. Need we even mention his one-shoulder inauguration ballgown for Michelle Obama?
"That was a life-changing night," says the 27-year-old Taiwanese-born designer. "That kind of global exposure comes once in a lifetime. I mean, I was doing the Today show, CNN and Good Morning America back-to-back the next morning. It was insane."
In the days immediately thereafter, Wu's phone wouldn't stop ringing. There was an avalanche of e-mails in his in-box. Paparazzi were camped out at the Au Bon Pain across the street from his office on West 37th Street in New York. Endorsement and book deals were streaming in, as were pitches for his own reality show. "There were a lot of inappropriate things," he says of the blizzard of offers, including one for a housewares promotion. "I had to buckle down and say no. People wanted to make me into a television personality."
On a recent evening Wu is eager to shelve the hype and steer the spotlight back to his business. He has just given a tour of his new Manhattan office digs, a generous 9,000 square feet complete with its own shipping warehouse in the rear. For anyone who visited his former studio, where elevator buttons didn't quite light up and the white walls came courtesy of Wu and a bucket of paint, this is an impressive upgrade. He has taken over a full floor in the old Mary McFadden building in the Garment District, and while the place is still under construction, he's enthusing about "injecting brand elements into the space—that double element of old and new." Right now that mix means a velvet couch, antique car headlights and a flat-screen TV showing an endless loop of runway footage.
"There's something quite classic about what I do, but tweaked a little bit," Wu explains. "It's all about contrast, like the classic pink feathered dress paired with an acid green belt, from spring." He cites another example: his runway venue for that season. "I love the fact that I showed a tweed hoodie at the St. Regis," he says, pulling out the invitation, as if on cue, and running his hands over the invite's gilt edge. "We've been working on establishing the brand, and that's not only in the clothing itself. It's the people we dress, the kind of paper we print on.…"
A shot of Jason Wu's office, with works by René Gruau, Christoph Morlinghaus, Thomas Libetti and Sam Frost
As a kid, Wu always knew he wanted to do something creative. Back then that meant artist or illustrator. It wasn't until his family moved from Taiwan to Vancouver, British Columbia, when he was nine that the gears for his career were set in motion, thanks to his English tutor and a door-to-door Jehovah's Witness. The former, after noticing his artistic bent, would bring fashion magazines for him to flip through. The latter, whom his mom welcomed into the home because she thought it might help the family learn the new language even better, turned out to have been a fashion major in college. "She would say, 'If you pay attention, I'll teach you how to draw afterward,'" recalls Wu. "We would do an hour of Bible study and then an hour of fashion drawing. She even got me a set of watercolors. The story of how I learned the English language is how I discovered fashion, really."
Ask Wu what informs his posh and pretty aesthetic and he's somewhat at a loss for words. He grants that his mother was "very put together, hair always in a low chignon" and dressed him "superpreppy." And from early on he found himself attracted to the works of designer Charles James and illustrator René Gruau. Unlike scores of young fashion students, Wu, who attended but didn't graduate from Parsons The New School for Design, never veered to the hip or avant-garde side of the design scale. "I was always a little old-fashioned," he acknowledges. "I never wanted to be the trendiest person. I'd much rather stay at the St. Regis than at a modern hotel."
Which isn't to say the designer breezed through his adolescence with a sweater-vest on his back and a copy of The Official Preppy Handbook in hand. In fact, while a student at the Loomis Chaffee boarding school in Connecticut, Wu sported a mohawk. "I went through this phase where I changed my hair color all the time, too," he says. "And I had an earring here"—he tugs at his left earlobe—"but it got infected. It wasn't meant to be."
Despite Wu's flirtation with an edgier personal look, his designs have remained refined and sophisticated, even as he parlays his initial cocktail collection into a self-funded lifestyle label loaded with daywear. "It was refreshing to come upon such a young designer who wasn't defining modern style by deconstructing fashion, but rather searching for a voice that combines polish, tradition and femininity," Linda Fargo, senior vice president of fashion and store presentation at Bergdorf Goodman, says via e-mail.
From top: An Ochre chandelier in Wu's office; the reception area, with a photograph by Christoph Morlinghaus.
This year, in addition to the launch of a prefall collection in which he indulged in a more structured vibe inspired by stewardess uniforms from the Sixties, Wu went further into accessories, beyond the occasional belt. His started out with sunglasses, in collaboration with Modo Eyewear, which he followed up with the debut of his own GE digital camera collection. Shades are a no-brainer business leap, but cameras? The designer promises he's not heading for Pierre Cardin–ville, and will be judicious in deciding about collaborations. "I was up for the challenge," he says of the camera. "I created a feminine version, with slightly rounded sides, so it looks like a clutch in a way." No, he's not launching handbags quite yet, though he has already begun developing shoes.
Other projects are demanding his attention as well. Wu was recently tapped to design a capsule collection for TSE Cashmere, to debut in July, and still serves as partner and creative director of Integrity Toys, the Maryland company he has worked with since age 16, after cold-calling and brazenly maneuvering his way into a freelance doll-designer gig. "He was very persistent," says Integrity president Percy Newsum. "He even came in with contacts and knew a doll distributor who would take a chance with him. I said, 'Why not? We'll give it a shot.' We did 500 [copies of his doll], and it immediately sold out. He has collectors who follow his work, and they're kind of proud to see him gaining recognition and maturing."
Wu has no plans to abandon his dollmaking, even as his $10 million company has taken off. Not only is he working on a collection for Madame Alexander, but as a sign of his commitment to Integrity, he just installed one of its employees at his new offices.
Would the designer's career be bursting at the proverbial seams if not for the first lady's patronage? Perhaps not. But Wu is quick to emphasize that all the cards were already lined up in his favor. "[The inauguration] was the perfect timing," he says. "If we had had this happen a year before, I don't think we would have been able to fully take advantage of the press."
Weeks later Wu gives another tour of his now completed studio, remarking how the Giancarlo Valle–designed space, furnished with the help of interior designer Jesse Carrier, will serve as the testing ground for what Wu's stores might look like. The result cements, in brick-and-mortar form, all that classic-meets-­modern brandspeak in which he has become increasingly well versed: Gruau prints alongside industrial images by Christoph Morlinghaus; an Otto Zitko painting, all Expressionist squiggles; vintage mirrors; 19th-century doors; salmon-hued wallpaper in one room, stark gray walls in another. Even the chairs in reception are a hybrid of Louis XIV and sleek metal. Wu adds, half joking, that his branding efforts might take off à la McFadden. "If I get two more floors," he says, "management said it would name the building after me."