What Does Jay-Z's 4:44 Album Title Have to Do With The Standard?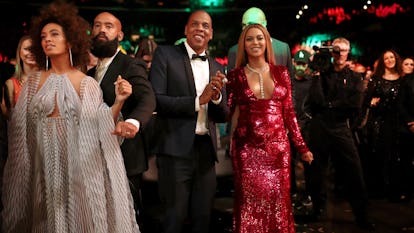 Christopher Polk/NARAS/Getty Images
The world has been speculating about the origin of Jay Z's 4:44 album since its release earlier this summer, and one fan's latest theory will leave you stroking your chin.
According to Twitter user @StephenOssola, it all goes back to the site of the infamous Solange Knowles vs. Jay Z elevator dust-up of 2014, Mashable reports. "I'm at The Standard where Solange beat Jay-Z's ass in the elevator. THE ADDRESS IS 444. I AM SHOOK," @StephenOssola shared in a tweet early Wednesday morning along with a picture of the hotel's address: 444 W. 13th Street.
As you may recall, Jay Z and Solange got into a heated argument in the elevator coming down from a Met Gala after party at the top of the Standard Hotel—and the whole thing was caught on video and promptly leaked. The internet erupted with speculation that it had something to do with Jay's extramarital activities, which are also coincidentally (or not) referenced throughout the 4:44 album.
The official address of the Standard Hotel is 848 Washington Street, which is probably why no one has made this connection until now. But the address for the side-door exit for the nightclub, where Jay, Bey, and Solange would have been leaving from, is 444 W. 13th St., according to Mashable.
Jay Z claims the album was named 4:44 because the title track—which very candidly responds to some of the cheating accusations Beyoncé made on her own now-legendary album Lemonade—was conceptualized at 4:44 in the morning. "And I woke up, literally, at 4:44 in the morning, 4:44 a.m., to write this song. So it became the title of the album and everything," the rapper told iHeart radio in an interview. "It's the title track because it's such a powerful song, and I just believe one of the best songs I've ever written."
Despite Jay Z's straightforward explanation, the Twitterverse has had its fair share of theories about the name, which include everything from a reference to Bey and Jay's wedding day (4/4/08) and a tribute to the 44th President, Barack Obama. Given the content of the album, though, the "elevator theory" might actually hold water. The tweet has been shared over 11,000 times, so clearly people are buying in.
Related: On 4:44, a Humbled Jay-Z Struggles to Make Amends with Beyoncé and the Other Women In His Life
See What's Trending in W Video: