…And the Bridesmaids Wore J. Crew
America's preppy retailer becomes the go-to source for bridesmaid dresses.
---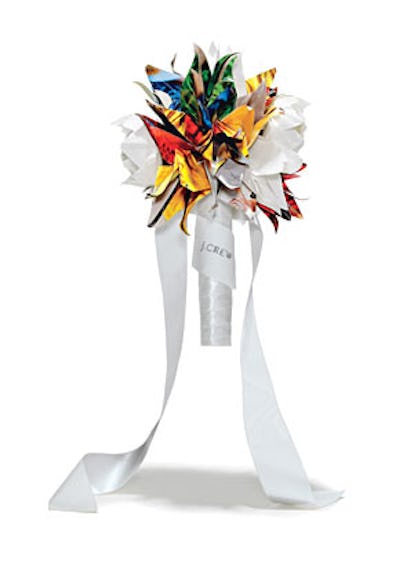 Bridget Herschap, daughter of a prominent South Texas oil executive, was not the kind of bride one would expect to cut corners on cost. After all, her June destination wedding in San Miguel de Allende, Mexico, was lavish, replete with fireworks, mariachi bands and private haciendas for special guests. Yet when it came to the bridesmaid dresses, Herschap chose a lineup of flowy raspberry frocks from J. Crew, each one a wallet-friendly $250.
Silk frock, $395.
Catherine Fabrizio also turned to J. Crew to dress her 11 attendants, even though, as an associate accessories buyer for a major New York department store, she had such designer labels as Vera Wang, Oscar de la Renta and Carolina Herrera at her finger— tips. "The J. Crew dresses didn't look froufrou," says Fabrizio, who wore an ivory wedding gown by Anna Maier Ulla-Maija Couture. "I didn't want them to be overdone."
Becoming a bridesmaid favorite came as a surprise to J. Crew's chairman and CEO, Millard "Mickey" Drexler, who, upon hearing from sales associates that a flood of engaged women were choosing the firm's dresses for their attendants—the most popular, a strapless, embossed style—decided to connect the dots. "I didn't know much about it, but we chatted a bit and the next day we said, 'It might be fun. Let's do J. Crew wedding,'" Drexler recounts. With that, seven bridesmaid dresses, along with one wedding gown and a few men's suits, were introduced in February 2004. (For spring 2009, J. Crew upped its bridesmaid dress count to 25; they retail from $165 for a crinkled chiffon style to $395 for a high-collar silk shift.) Cost, a key component when the collection launched, is even more important today, given the economic climate. "Any customer is always evaluating whether something is worth it or not, and this market only reinforces that," Drexler says. "I think we are rightly priced, and my opinion is that [our competitors] are overpriced. We've seen this enormous inflation in designer pricing and demand, and I think more than ever the customer is looking at the combination of style, quality, design and value, because that is the new standard."
While price was a bonus for Herschap, the cute factor was, she notes, a larger selling point. "My biggest fear was that people were going to think, God, that bridesmaid dress is so ugly," she says. "J. Crew dresses were the sweetest-looking, and I didn't think they looked too bridesmaid-y. I thought they could wear them again."
Cotton dress, $275.
That's music to the ears of Jenna Lyons, J. Crew's creative director. When she set out to design the company's wedding garb, she took the bridesmaid-dress-that-doesn't-look-like-a-bridesmaid-dress approach. "Every single season, every time we look at a dress, we look at the girl and say, 'Okay, if you saw her at a party or a picnic, would you think she looked ridiculous or would you think she looked cute?' We don't look at bridal as just wearing it to a wedding. We look at it as you could end up anywhere," explains Lyons, who makes sure the cuts are simple and sticks with fabrics such as cotton and silk blends, while keeping bows, sashes and other adornments to a minimum.
Hillary Thomas, an attorney and real-estate developer who was married in Sagaponack, New York, last June, was drawn to J. Crew's bridesmaid dresses for another reason: They offer a happy alternative to the so-called identical twins look. She let her attendants pick any style they wanted, as long as it was available in the navy cotton she selected.
Silk sheath, $295 .
The result? Five varying silhouettes, from halter to strapless. One of Thomas's bridesmaids, Jenya Green, went for a deep V-neck A-line with a satin sash, which she ended up removing. Green says the dress was an easy, obvious choice because it works with her current wardrobe. "It would fit a big range of dressiness. I'd wear it to a casual outdoor wedding or to work with a cardigan," she notes.
While Liz Burke, a kindergarten teacher, had only two bridesmaids to outfit for her July wedding in Evanston, Illinois, she was faced with a different predicament: finding a dress that would suit both her 36-year-old and 15-year-old sisters. Her solution­—a sophisticated strapless style for the older sibling and an Empire-waist ballerina version for the younger, each in chocolate brown silk taffeta. "I needed options, and J. Crew gave me options," says Burke, who sourced the dresses on the company's Web site. (They are also available via catalog.)
That said, some brides are fearful of shopping from a photo for such a significant element of their big day and prefer the traditional brick-and-mortar approach to finding bridesmaid dresses. Such women can ask a J. Crew retail associate to order select styles for delivery to a store for try-on, without charge. Others have different shopping issues. Such was the case with Jennifer Anderson, one of 10 attendants in Lea Morrison's Sun Valley, Idaho, wedding, who tried to place her order on the late side and was told that the light blue cotton item was out of stock. "It became this whole thing, like, 'Should I tell Lea I can't get the dress and I'm not going to be in the wedding?'" Anderson recalls. Luckily J. Crew came to her rescue, delivering enough fabric—for free, no less—so she could have the frock made on her own. "They spent a week looking through all the inventory," she says. "I was very impressed."
To avoid situations like the one Anderson found herself in, J. Crew offers its Ashley service; clients can e-mail or phone the company's in-house wedding specialist, Ashley Drinkard, and her team of 23. They create customer profiles for bridal parties while gathering measurements, size and style information and, most important, ensuring orders are ready for the big day.
Though he won't divulge details, Drexler says he and his team have talked about opening J. Crew's first bridal atelier on Manhattan's Upper East Side. But perpetual bridesmaid Anderson isn't taking any chances. After her close call with that light blue dress, she planned ahead for her latest wedding appearance, in October, when she again wore J. Crew, only this time in the style of her choice. "I ordered eight dresses," she says, noting that she returned the extra ones once she found the perfect fit. "It was like $2,000 on my credit card, but this time I wasn't without a dress!"