Jean Paul Gaultier Is Retiring From the Runway
But the couture will continue.
---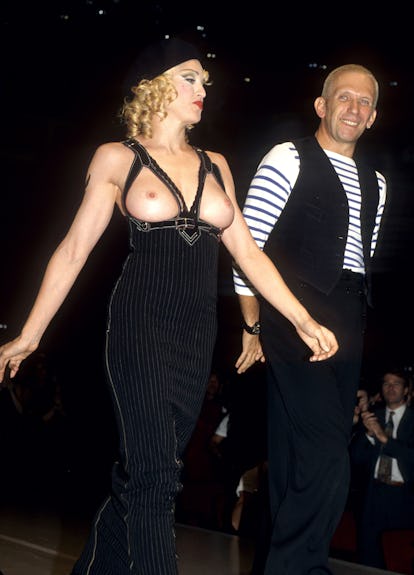 Getty Images
Jean Paul Gaultier is not just the only designer to get Madonna to walk the runway with her breasts out, he also managed to make a topless pop star at one of his fashion shows feel par for the course. The man who has been called the "enfant terrible of French fashion" so many times he should own the trademark has shocked catwalk watchers for years while also showing some the most beautiful clothing on earth. (And it's stood the test of time: The Kardashians couldn't get enough of vintage Gaultier last year.)
Yet, after 50 years in the fashion business, Gaultier has announced that his upcoming show during haute couture week in Paris will be his final fashion extravaganza.
"This show celebrating 50 years of my career will also be my last," the designer wrote on Twitter. "But rest assured Haute Couture will continue with a new concept."
Naturally Gaultier, who once moonlighted as a television presenter, included a playful video with the announcement.
And he also made it clear that he's not done with fashion completely: "Stay tuned, Gaultier Paris will go on—the Haute Couture continues! I have a new concept. I'll tell you about it later; all the little secrets."
Though Gaultier has already pulled back in recent years—he left his second job at Hermès in 2010, and stopped showing his own ready-to-wear line in 2014—the total absence of Gaultier on the couture calendar is a big deal.
Gaultier was not only a master of spectacle, with his eyes always on the underground, but his instincts have proved prescient. He showed couture on plus-size models, embraced racial and age diversity on the runway, and was blurring the lines between the the genders in his shows long before such ideas became commonplace. In 1984, he sent men down the runway in skirts—a decision that apparently proved so mind-boggling to the public that it required an entire New York Times article to explain.
Who knows what Gaultier has up his sleeve for his grand finale? He promises that lots of his famous friends will attend. Perhaps Madge might even take one more walk?
Related: Revisit Jean Paul Gaultier's Best Moments in W, Starring Madonna, Kate Moss, and Laura Dern