How Hotelier Jeff Klein Mastered the Hospitality Formula
The man behind the Sunset Tower and the San Vicente Bungalows reflects on the people and celebrations that have defined his life.
---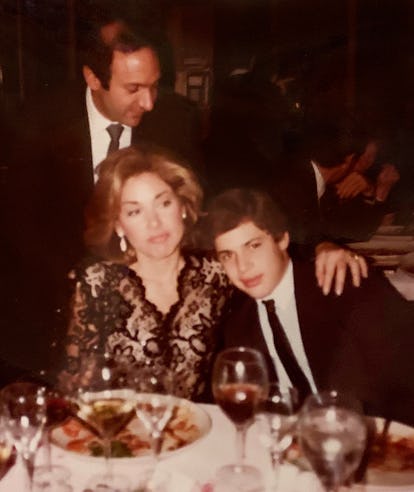 Courtesy of Jeff Klein.
Jeff Klein—the hotelier and restaurateur behind New York City's Monkey Bar, and Los Angeles's Sunset Tower Hotel and San Vicente Bungalows—grew up in a peripatetic family. "We went on this little boat down the Nile when I was 13, and it was the chicest thing I'd ever seen," he says. The first time Klein says he felt inspired by a space was during a family trip to Rome, where they stayed in a "little hotel" and ate at a restaurant with "the most delicious, simple, unfussy food. I remember getting this really special feeling." Now Klein tries to conjure a version of that experience for the patrons of his own properties. On any given night at Sunset Tower or the Bungalows (a members club so private that guests' phone camera lenses are covered with a custom sticker), one can expect a swath of Hollywood A-listers and assorted power players. Klein has mastered a notoriously difficult formula: "It's the music and the temperature and the lighting and the design, and the butts in the seats—who is actually sitting in that room? Even if they're not famous, do they add to that vibe? I've always been turned on by it," he says. Klein, who lives with his husband, the producer John Goldwyn, in Beverly Hills, says he is focused on his current set of locations at the moment, noting that he's turned down offers to helm "over 300 hotel projects" because the fit wasn't right. Still, Klein hopes to soon open a Bungalows outpost in Santa Monica, and he's also planning to launch a new New York members club of some kind. "New York needs it," he says.
Klein opened the Monkey Bar in 2009 with the former "Vanity Fair" editor in chief Graydon Carter and his wife, Anna. Klein says the New York City nightlife playing field is very different from Los Angeles's. "The truth is, in L.A., the pickings are slim—there are so many cheesy places. In New York, you're competing against real peers all the time."
Pictured here at home with his husband, the film producer John Goldwyn. Klein says that on the rare occasion he gets a day off, he likes to spend it "watching TV in bed." He adds, "When I really want to veg out, I'll watch Lifetime Christmas movies, or 'Schitt's Creek.' "
Carter (above left, with Jim Wiatt, the former CEO of William Morris Agency, at right) was instrumental in launching the Monkey Bar. "Graydon's such a personality that it was like a dream working with him…. He did so much. He was such a force. I had that huge gust of wind with me in New York."
Klein found Dimitri Dimitrov (near left)—formerly the maître d' at Sunset Tower Hotel's Tower Bar, now at San Vicente Bungalows—via a recommendation from the designer and filmmaker Tom Ford and the writer and producer Mitch Glazer. There was an instant connection. And Klein has known Gabé Doppelt (center)—a former "W" West Coast editor and the current maître d' at the Tower Bar—for about 20 years. "From the day I met her, she had said to me, 'I really want to get into hospitality, it's this secret passion of mine .' "
Letting loose at his pal Rena Sindi's 50th birthday party, in St. Tropez, with, from left, Tory Burch, Sindi, and Jamie Tisch. The theme was La Cage aux Folles meets Studio 54.
Klein says there are over 9,000 people on the waiting list to join San Vicente Bungalows. "Once you get one or two of the cool crew, everybody is dying to [follow suit]…so I'm not that surprised." He adds, "We're also not at capacity yet. We don't reject anybody; we just put everybody on the waitlist if they're not going to get in. Some people do get in eventually."
Klein's mother, pictured here with him, has been a major influence on his work and general philosophy. "She's really a cool woman," he says. "She has real style, and it's not style that money buys…I feel like that's something that helped mold me when I was young."
Klein bought the Sunset Tower—which was originally designed in 1929—in 2004. "It was this dump," he recalls. "Nobody would buy it. They kept on lowering the price every three months because they couldn't sell it." Despite those who doubted that the structure could ever become a sophisticated spot, Klein completed a renovation of the venue in 2007,  and it immediately became a go-to destination. "I really wanted to make it warm and soulful and connect it to its past."
A-listers of all kinds—the late Jackie Collins, pictured here, was a favorite of Klein's—abound at both of Klein's L.A. properties. "The thing that's so crazy about L.A. is the crowd, you know? San Vicente has had a couple of nights where…I just can't believe I was in the room when Madonna and Mick Jagger and Lady Gaga were singing karaoke. I'm like, Should I pinch myself?" There is a certain anxiety involved with catering to such a high-profile clientele, of course. "It's very stressful because it's one thing to hear 'Mr. So-and-so didn't get his coffee quickly.' But then if you hear that Brad Pitt didn't get his coffee, you're like, 'Oh, shit,'  " says Klein. "I'm a perfectionist. I really don't care about what's right, I care more about what's wrong."