SUDDENLY, THE KOONS IS LV
Jeff Koons' New Louis Vuitton Collaboration Includes a Mona Lisa Duffel Bag
The artist's "Masters" collection features familiar faces like the Mona Lisa atop a spread of Vuitton's luxest leather bags and accessories.
---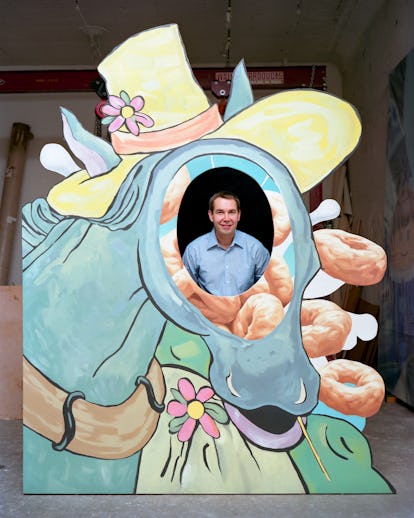 Photographed: Jason Schmidt
Fresh from heading off to Venice to fête his like-minded friend Damien Hirst's new exhibition, which might be the most expensive art show ever, Jeff Koons, one of the world's highest paid artists, has unveiled his latest project: a collaboration with Louis Vuitton that suggests Koons has lately been finding inspiration not just in Italy, but also in the vendor stalls outside of the Louvre.
Starting with the Mona Lisa plastered across leather goods ranging from a hanging chain clutch to a duffel bag, Koons' "Masters" collection for Vuitton, officially out later this month, is a mix of familiar canvases by the likes of da Vinci, Rubens, Titian, van Gogh, and Fragonard—which are actually from Koons' own "Gazing Ball" series.
The series, after all, is a grouping of paintings that are painstaking recreations of textbook art-history masterpieces like Manet's Le Déjeuner sur l'herbe, though all amended with one, bright blue detail: one of Koons' trademark shiny spheres (which you may also recognize as the centerpiece between Lady Gaga's legs on the cover of Artpop, or on the cover of one of his Google Live phone cases.)
"It's not about copying," Koons told the Guardian at the time—a deeper, more referential approach that's now carried over to the "Masters" collection, which he's spent the past year working on in secrecy.
"They touch on the metaphysical: the right here right now and its connection to the past and the future," Koons said of the series' leather iterations, among them scarves and key chains, to the New York Times. "They're about shine, the basics of philosophy, passion, what it means to be a human, what it means to be an animal, the idea of transcendence."
There is one key difference this time around, though. Instead of shimmery blue spheres, Koons has helpfully overlaid each tableau with a bit of help for those who don't happen to be art history buffs: Each artist's name, loud and clear in a varsity letter-like, metallic, all caps font. In case you forgot who painted the Mona Lisa.
See Kendall Jenner, Performance Artist, Channel Icons Like Marina Abramovic and Yoko Ono: