Jeffrey Deitch Listens to Suicide, Commissions Urns
The art impresario, who's teaming up again with Larry Gagosian for a new exhibition at Art Basel Miami Beach, shares his culture diet.
---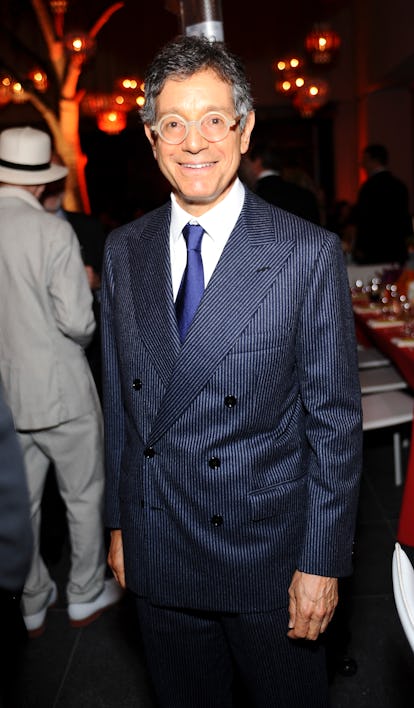 Stefanie Keenan/WireImage/Getty Images
Jeffrey Deitch's roots in Miami stretch back even to before Art Basel spread to South Florida in 2002. But since then, the curator, dealer, and former director of MOCA in Los Angeles has still managed to make a splash every year in the city, from inviting Miley Cyrus to partnering up with Larry Gagosian last year for an exhibition focusing on the figure. The powerhouse pair have come together again this December for "Desire," an erotic exhibit curated by Diana Widmaier Picasso that will soon span four floors of the Moore Building. On the eve of a dinner with W and Saint Laurent to kick off the show, he shares his culture diet, here.
First thing you read in the morning: The Wall Street Journal and the New York Times. It's good to get both perspectives. I have perfected a system to speed read through both, and it is much faster and more efficient with the print editions than online.
Books on your bedside table right now: I just finished Tim Lawrence's Life and Death on the New York Dance Floor 1980-1983 — a lively history of the convergence of art, music, and dance during a remarkable period. I am now reading Disraeli: The Novel Politician by David Cesarani in the Yale Jewish Lives series. I've been reading the books in this series as they are published; the volume on Bernard Berenson was especially good. And I always have a lengthy book on the bedside table that I have not yet finished but return to from time to time. Now I am slowly reading The Opium War: Drugs, Dreams and the Making of Modern China by Julia Lovell. My "Overpop" exhibition is on view now at the Yuz Museum in Shanghai and one of my projects is to try to educate myself about contemporary China.
The TV shows keeping you up at night: I generally do not watch TV, but watching the election did keep me up all night.
Last movie you saw in theaters: Author: The JT LeRoy Story. The story of Laura Albert and the JT LeRoy hoax is much more interesting than the JT LeRoy novels, and I have a cameo part in this saga myself. But Wiener-Dog, directed by Todd Solondz, is the best recent film that I saw. He is one of the directors whose vision is closest to issues in contemporary art.
Last thing you saw at the theater: "The Show Must Go On," from 2001, choreographed by Jérôme Bel at the Joyce Theater — something midway between dance and real life.
Last piece of art you bought, or ogled: I commissioned a pair of large ceramic urns in the shape of female bodies by Ruby Neri. The sculptures are enlivened by the exotic plants emerging from the figures' heads.
Last museum exhibition that you loved: Jeremy Deller's project with Iggy Pop as a nude model, on view at the Brooklyn Museum.
Release you're most eagerly anticipating: I am looking forward to a new LCD Soundsystem album.
Last song you had on repeat: Suicide's "Dream Baby Dream."
Last concert you saw live: Desert Trip at Coachella. All the performers put on great shows, but Neil Young was astonishing, totally present.
How you get your news: The old fashioned way — print newspapers in the morning, and colleagues in the office exclaiming about the latest shocker on their iPhones.
Go-to spots in Miami: Two great fish restaurants: Garcia's on the Miami River, and Estiatorio Milos in South Beach.
Favorite social media accounts to follow: I avoid social media. Better to read books.