Jemima Kirke Blurs The Gender Lines in Alex Cameron and Angel Olsen's New Video "Stranger's Kiss"
It has a very weird backstory—half-David Lynch, half-Andy Kaufman
---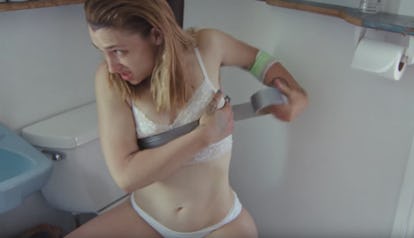 Fresh off appearing in a Mick Jagger video last week, Jemima Kirke returns to the medium this week by not only starring in but directing the latest video for "Stranger's Kiss," Australian rock star Alex Cameron's duet with Angel Olsen. We described the Jemima's Jagger video as "very, very sweaty." This one, and it's even odder backstory, we can only describe has half-David Lynch, half-Andy Kaufman.
In the video, Kirke plays a character who seems to be obsessed by Cameron, and, while starring in the mirror, transforms herself into the spitting image of the rocker. Duck tape and a Canadian tuxedo complete the look. She then heads out to the streets of New York City armed with a battered black-and-white photo of Cameron and attempts to find him with the help of strangers.
So, it's Kirke as a fan of the rock star who adapts his persona, apparently, in an effort to get closer to him. Imagine an Elvis Presley impersonator stalking Presley himself, but with an added gender twist.
Though it's actually weirder than that. Cameron's public persona is a manufactured image to begin with. He's sort of the Andy Kaufman of indie rock. He began his career by adopting the character of an aging, failed musician (in fact, up until recently, he used to wear prosthetic wrinkles while in character) and quietly uploaded an album, Jumping the Shark, onto his website for free. The album slowly gained buzz and fans up to the point that it was finally reissued on an actual record label (Secretly Canadian) last year.
So, in Cameron's Lynchian mythology, Kirke's character might be the musician's only devoted fan, which explains why no one can help her find him. It also explains the twist of where they actually do meet in the end.
In an even weirder twist, apparently the filming of the music video led to heightened rumors that Kirke and Cameron were dating. Based on hearsay that the pair showed up together at Kirke's sister Domino's wedding to Penn Badgley earlier this year, E! News and The Daily Mail used paparazzi photos of the pair exhibiting some not-so-subtle PDA in public to confirm hunches that they were dating.
As we now know though, those paparazzi photos were actually taken during the making of the music video, which is deeply hilarious, and somehow stranger than the faux-celebrity plot of the whole project. Of course, it doesn't completely rule out the gossip that Kirke and Cameron may or may not be dating, but it certainly wasn't the smoking gun that E! and the Mail thought it was.
Though, given Cameron's propensity for Kaufman-esque tricks, it can't be ruled out that the pair intended for the pics to leak out to the gossip press and be misconstrued in the first place.
Related: Inside Jemima Kirke's Faraway Brooklyn Studio, Where She's Just Restarting Life After Girls
See What's Trending in W Video: