Jemima Kirke Stars in Mick Jagger's Very, Very Sweaty New Music Video
All in the name of politics.
---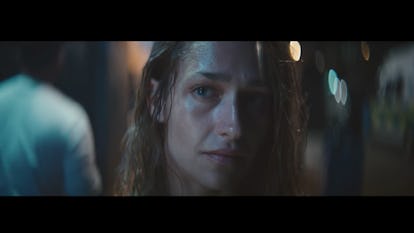 Courtesy of Vevo
They may be decades apart in age—and very different degrees of prolificacy—but this week has been a big one for both Mick Jagger, the Rolling Stones frontman, and Jemima Kirke, the actress and painter most recently seen as Jessa in Girls. Jagger, for one, turned 74—though as if to remind the world of his agelessness, he also rolled out the beginnings of an "audio-visual project" that marks his first real foray into politics.
Kirke, for her part, has emerged from her Brooklyn studio where she's been holed up painting as of late to star alongside Grimes and Hari Nef in Proenza Schouler's new short film for Planned Parenthood.
But, the two stars converged for a new project: Kirke starred in "Gotta Get a Grip," Jagger's new video that he dropped along with "England Lost," a new single with Skepta.
"I didn't want to wait until next year when these two tracks might lose any impact and mean nothing," Jagger said of the songs that were inspired by "anxiety [and] unknowability of the changing political situation." Through focusing on a soccer match, "England Lost" focuses on how we're in a "difficult moment in our history," while "Gotta Get a Grip" is a takedown of the "lunatics and clowns" who are Britain's politicians, as well as Jagger's contempt for "fake news." The video, somewhat unexplainably, takes place in a club, which is where Kirke comes into the picture.
Quite unlike the rest of the crowd Kirke stands stone-faced and blank-eyed in the middle of the dance floor while casually smoking a cigarette—a picture of calm until, cigarette still in tow, she suddenly climbs a shaky wire fence to the top of the stage, a move that ends up with her face getting bloodied.
Meanwhile, the rest of the club sweats and sips champagne while Jagger sings on about how "the world is upside down," and details his long list of failed attempts to get past that. (They include "mediation and medication," "L.A. culture and acquapuncture," "overeating and sex in meetings," and even Christianity.) His complaints broaden from there: Jagger also touches on refugees and immigrants—and even rhymes "crisis" with "ISIS."
Kirke, for her part, continues head-banging and writhing about on-screen with more than enough enthusiasm to make Jessa proud—and perhaps her father, the drummer Simon Kirke, too. Back in the '70s, he did his own favor for Jagger, playing the conga in the Rolling Stones's song "Shattered."
Related: Inside Jemima Kirke's Faraway Brooklyn Studio, Where She's Just Restarting Life After Girls
See W's most popular videos: