Jen Steele Loves Vintage Levi's, a Good Hawaiian Shirt
The stylish multi-hyphenate shares her style philosophy.
---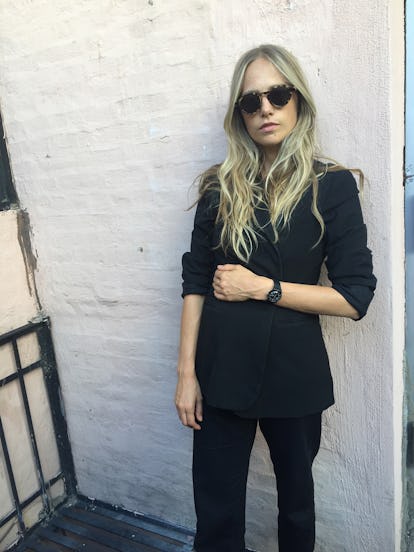 Perhaps even more remarkable than Jen Steele's impressive resume—the multi-hyphenate is a writer, stylist, and founding editor-in-chief of the website Girls I Know—is her reputation for being a bona fide nice girl. Steele marches to the beat of her own drum, and it shows just as much in the smiling-back faces that appear on her site as it does in her personal style. Post-NYFW and pre-Fall in New York, we asked the casual style star to share her greatest hits, latest obsessions, and more.
Define your style in three words: Nineteen seventy-seven.
Daily uniform: I feel most myself in 100% cotton vintage Levi's 501s, a men's white Hanes t-shirt, my black Ralph Lauren blazer and Steven Alan loafers.
Greatest hits: My new classic and favorite piece is a pale yellow and baby blue vintage cotton Hawaiian shirt. Think Leonardo DiCaprio in "Romeo and Juliet." Other wardrobe successes are my orange label Levi's flared jeans, and Retrosuperfuture optical lenses. I have these very special stamps that we're recently gifted to me—one strawberry and one wildflower stamp. I use them when I send letters and also on my wrist for fun.
Preferred footwear: Converse, most of the time. Maryam Nassir Zadeh Robertas all of the time.
Finishing touches: Little necktie bandanas from Alex Mill, my waterproof '90s black Swatch, Dior Show Iconic mascara #698 Brown.
Nighttime look: I'll sneak into a dress if the occasion calls for it. I recently went to see "John", a play by Annie Clark, and wore a black silk slip dress with a vintage western belt and black Chanel flats that I found for a steal at INA.
Style pet peeve: Flip-flops scare me very much.
Style icons: Lauren Hutton, Jane Birkin, Joan Didion, Tessa Matthias.
Last purchase: I bought a French press for coffee in the morning, I love the methodical process—I find it therapeutic.
Lusting after: I'd like to invest in a cross body bag from The Row.
Favorite haunts: Smith and Mills in Tribeca, Lavagna in the East Village, Casa Tua in Miami, Posada Margarita in Tulum, and Mogador in Brooklyn.
Fall must-haves: Le Hen Sylvain French barrettes, Bowen red one-piece swimsuit, Lacausa summer dresses and jumpsuits, Nuxe Huile Prodigieuse multi-purpose dry oil, Glossier Coconut Balm Dotcom.
What's always in your bag: Weleda Skin Food, my film camera, red Moleskine notebook, and dramatically fancy pens.
Photos: Jen Steele Loves Vintage Levi's, a Good Hawaiian Shirt
Jen Steele. Courtesy of the subject.
One of Steele's favorite Hawaiian shirts. Courtesy of Jen Steele.
A few of Steele's favorite things. Courtesy of Jen Steele.
A Le Hen Sylvain French barrette. Courtesy of Jen Steele.
Jen Steele. Courtesy of the subject.
Steele's Chanel palette. Courtesy of Jen Steele.
Steele's film camera. Courtesy of Jen Steele.
Maryam Nassir Zadeh Roberta heels. Courtesy of Jen Steele.
Jen Steele. Courtesy of the subject.
Steele's stamps and books. Courtesy of Jen Steele.