Jenji Kohan's Next Show is About a Socialite Who Winds Up Somewhere Worse Than Jail
The Orange is the New Black creator's next project is medieval.
---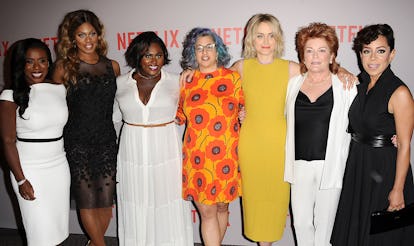 Jason LaVeris
TV super-producer Jenji Kohan specializes in shows about privileged women who suddenly find themselves knocked down a few rungs of society and suddenly slumming it with elements she couldn't have possibly imagine. Weeds saw the perfect upper middle-class mother resorting to drug dealing. Orange is the New Black finds your typical American good girl dealing with life in prison. Her most recent, GLOW, finds a proud but struggling method actress and her former soap star frenemy in the world of professional wrestling.
The plot for her next show should not surprise anyone.
Dubbed American Princess, it centers on one of the most privileged class of women of all: an Upper East Side socialite.
It finds her in perhaps Kohan's most offbeat choice of setting yet that, to some, may actually be worse than prison: a renaissance faire.
According to Deadline, the main character not only calls off her countryside wedding just hours before after she finds out her fiancé is cheating but lashes out in such a way that the moment goes viral. So, she runs off into the country without a phone only to find herself drawn to this strange locale.
Eventually she finds out that her outburst is the subject of tabloid fascination, so, naturally, she just decides to stay put. She takes on the role of the "wench-in-waiting." (Somewhere, Ryan Murphy is surely muttering to himself, "Damn, well there goes my renaissance faire-themed season of American Horror Story.").
Kohan will partner with Tara Herrmann and concept creator Jamie Denbo as executive producers, and the series has already been picked up with a straight-to-series order from Lifetime (the channel whose new tagline might as well be, "Yeah, we have good TV series now, too." They're also planning a very interesting sounding series featuring Gossip Girl himself Penn Badgley as well). The first season will consist of ten hour-long episodes.
"Jenji has always taken interesting and unconventional worlds and given them heart and humor," said Lifetime's Liz Gateley in a statement. "From the get-go, American Princess was a concept we loved as it's incredibly relatable to want to parachute from one's life in difficult times. In Jenji, Jamie and Tara's hands, we know this will be hilarious and special."
There's no casting decisions as yet, but we imagine there's no shortage of actresses willing to link up with Kohan and her knack for creating Emmy-nominated shows. Then again, she also has a talent for finding formerly little-known actresses and turning them into stars as well.
Related: Alison Brie Loved Getting Body Slammed By Betty Gilpin In GLOW
See What's Trending in W Video: