Jennifer Aniston and Justin Theroux May Have Separated Partly Because They Wanted to Live on Opposite Coasts
The L.A. vs. NYC debate begins again.
---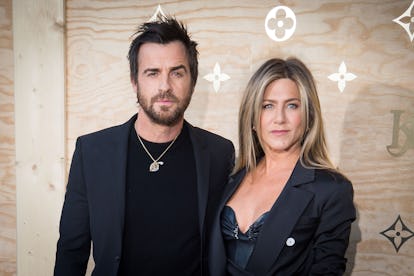 Stephane Cardinale/Corbis/Getty Images
On Thursday, Jennifer Aniston and Justin Theroux announced that they were separating after two years of marriage and nearly seven years together.
In a statement, the couple, who married in a secret ceremony at their Bel Air, California, home in August 2015, warned against believing any speculation about their split. "In an effort to reduce any further speculation, we have decided to announce our separation. This decision was mutual and lovingly made at the end of last year. We are two best friends who have decided to part ways as a couple, but look forward to continuing our cherished friendship," the statement read. "Normally we would do this privately, but given that the gossip industry cannot resist an opportunity to speculate and invent, we wanted to convey the truth directly. Whatever else is printed about us that is not directly from us, is someone else's fictional narrative. Above all, we are determined to maintain the deep respect and love that we have for one another."
Though, this hasn't deterred the tabloids from speculation; While there are unfounded rumors about a reunion with Brad Pitt, a leading, and more realistic, theory for the break up is one related to geography. A source revealed to Entertainment Tonight, that Theroux considers himself a New Yorker, while Aniston prefers her hometown of Los Angeles, and the pair were reportedly unable to reconcile those fundamental differences.
"He much prefers being [in New York] and that's been a major issue for them for a long time," the source said. "Justin has a very diverse friend group, and he likes that they're not all in the industry. He's friends with people in the restaurant world, writers, comedians, artists, tattoo artists. It's an eclectic group and he doesn't have that type of network in L.A." The insider added that although Aniston did give Manhattan a try, she was constantly hounded by the paparazzi. "[Theroux] really wanted her to be comfortable [in New York]," the source said. "He even negotiated with the paps to make a deal that they would only shoot her once per day and then leave her alone. He also agreed to move out of his apartment, which he loves."
Unfortunately, the West Village apartment the couple settled in didn't have a garage through which Aniston could enter and exit unseen, and a park across the street offered paparazzi the perfect place to set up and wait for the actress. Aniston reportedly wasn't the only one bothered by the swarming photographers. "What really pissed off the neighbors was just the constant commotion outside their door all the time with the photographers," the source told ET. "It made for an awkward living situation for Jen and Justin because they knew the neighbors weren't happy." This unhappiness escalated into "the bologna incident," the insider said, when a neighbor allegedly covered Theroux's motorcycle in bologna.
"She just never really could get settled in. She wasn't happy [in New York]," the source continued, adding that after the couple moved back to L.A, Theroux continued to make regular trips to New York. "He was bicoastal, she was not." Though this is, of course, all speculation, it's true that Theroux held onto his Greenwich Village apartment after the couple returned to the West Coast, and he was often spotted spending time in Manhattan.