Jennifer Garner's Transition into a Wicked Witch Is Honestly Frightening
Only she could make tomatillo sauce look this spooky.
---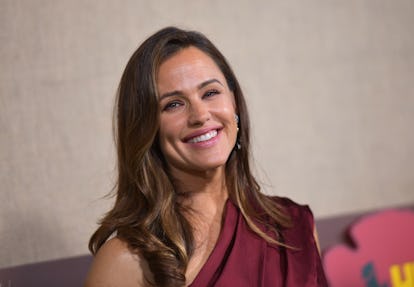 CHRIS DELMAS/AFP/Getty Images
Jennifer Garner has managed to embrace stardom while still keeping her nice, charming ways. But for this Halloween she let her dark side fly and became unrecognizable in the process as she morphed into a wicked witch. On paper, the idea of a witch hardly compares in scare-potential to some of the more gruesome Halloween costumes. In fact, witches have never been more on trend. (See: W's Witch Week.) But Garner managed to concoct a truly terrifying witch, complete with penciled-on eyebrows, green face makeup and a voice change.
Garner's makeup artist Fiona Stiles, who was responsible for the actress' shocking transformation, shared a video of Garner becoming a wicked witch and it is hypnotizing. "Some quick Halloween glam on @jennifer.garner this morning," she wrote on Instagram. "Gotta say, I have mad respect for people that do proper face painting. It's a serious skill! ?Have a spooktacular Halloween ? everybody!!!" In the clip, Garner's face is turned green and then contoured with darker green face paint. She's given a green smoky eye, super-arched thin brows, and, to top it off, a wig of long black hair.
Stiles also shared a photo of Garner's completed look, witch hat and all. "Wicked Witch on the outside. Glinda the Good Witch on the inside!," she wrote.
What made the look truly freaky is when Garner quoted Macbeth on her own Instagram as she mashed up a tomatillo sauce for her chips. "Double, double toil and trouble/ Fire burn, and cauldron bubble," she said in her spookiest voice, fully embracing the holiday. "Fillet of a fenny snake/ In the cauldron boil and bake/ Eye of newt and toe of frog/ Wool of bat and tongue of dog/ Adder's fork and blind-worm's sting/ Lizard's leg and owlet's wing/ For a charm of powerful trouble/ Like a hell-broth boil and bubble."
Despite those rattled-off ingredients, Garner revealed the mundane list of items that go into her special recipe. If you feel like channeling your own inner witch, or, you know, just making an easy snack, you can check out the spooky recipe (and demo) below.
Tomatillo Salsa Ingredients 1 almost full gallon size bag of tomatillos (from my garden?) 3 cloves of garlic, trimmed but not peeled 2 whole jalapeños (or more if you want more spice) 2 or 3 limes Salt Olive oil 1 or 2 ripe avocados
Steps
Preheat oven to 325F and line a baking sheet with tin foil.
Remove husks from tomatillos. Rinse and dry. Place on baking sheet.
Drizzle and coat with olive oil.
Add whole jalapeños and garlic to baking sheet.
Bake for about 30 minutes. You want the tomatillos softened, but not bursting. Jalapeños and garlic should be soft, as well.
Pull stems off jalapeños. Squeeze garlic from its shell.
Transfer everything to blender. Squeeze in lime juice and add a little salt.
Blend until smooth (leave the lid off a bit and cover with a towel to let the steam escape).
Transfer to bowl and let cool.
Refrigerate.
Add more salt to taste. Add diced avocado.
Cast a spell. Yum.