Jennifer Lawrence Reportedly Took Her Dog as Her Date to a Gala
And she wasn't the only one.
---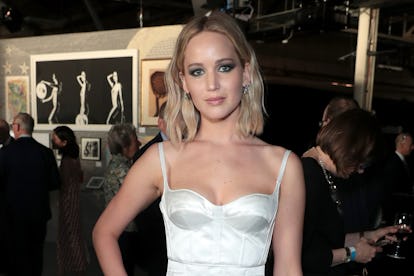 Cindy Ord/Getty Images
Two months after wearing a pizza-stained dress to a Kentucky Derby party, Jennifer Lawrence continues to flaunt black-tie conventions by reportedly bringing her dog Pippi Lawrence Stocking as a date to the 2018 BAM Gala. Page Six reported that Lawrence and Pippi were both spotted at the Wednesday night gala along with Lawrence's ex-boyfriend, collaborator, and ["very good friend"]https://www.wmagazine.com/story/jennifer-lawrence-darren-aronofsky-reunion-bam-gala) Darren Aronofsky, to whom she presented with an award.
"She took any moments of downtime to play happily with her pooch as the sun set over the harbor," a source told Page Six. The actor wasn't the only one preferring canine company at the Brooklyn Cruise Terminal that night. According to Page Six, BAM Gala honoree Jeremy Irons also brought his dog Smudge, who dressed for the occasion with a bow tie.
This isn't the first time Pippi has accompanied her human to important events. Last June, People reported, Lawrence took the pup to a dinner date with Aronofsky at Nobu in Malibu, and just a couple days before, Just Jared reported that she'd taken Pippi to a business meeting.
Lawrence is famously very protective of her pet, at one point saying "don't touch my dog, you f—ing loser" to a paparazzo who dared encroach on Pippi's personal space, according to Refinery29. Last June, she showed Vogue her oil painting of Pippi above her fireplace, and revealed she harbors a fear of bigger critters scooping up the tiny dog for a snack. "Coyotes, bigger dogs, rattlesnakes, big crows," Lawrence told Vogue. "Every 20 minutes I have a heart attack. I'm going to be a great mother." Sounds like Pippi, pup about town, is in good hands.