Jennifer Lawrence Is Going to Take a "Little Break" From Acting
A film like mother! can do that to you.
---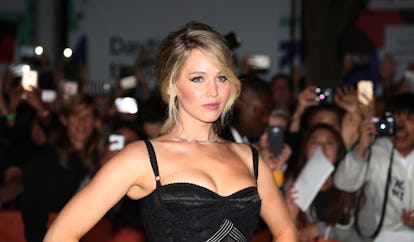 Walter McBride/FilmMagic/Getty Images
Hollywood darling Jennifer Lawrence revealed in an interview with Today that after a non-stop workload for the past decade, she's going to take a chill and distance herself from acting for awhile. If we hyperventilated to the point of breaking our diaphragm, we'd probably do the same.
When pressed by Today co-host Savannah Guthrie about her plans in the future, Lawrence was her usually candid, funny self at explaining her next steps. "I'm taking [a break]. I don't have anything set for two years," she said, noting that she's unsure how her time will be spent. "I don't know, start making pots? I think I'm just taking a little break. I'll see you in six months."
While Lawrence likely just wants to lounge on the couch and keep up with her favorite Kardashians due to, you know, being an overworked ingénue who calls private planes her second home, it would be surprising if her three upcoming films didn't affect her decision just a little bit—Darren Aronofsky's mother! finds her in a near-constant physical frenzy, while Francis Lawrence's Red Sparrow sees her as a Russian ballerina-turned-spy with a penchant for whooping men's asses twice her size. She'll also appear as Mystique at least one more time for X-Men: Days of Future Past.
Oh yeah, and always being in the public eye probably doesn't help, either.
"[People] feel so entitled to everything. Like when I'm getting photographed just walking to Starbucks, I'm like, why do you feel entitled to this?" she explained in the same Today interview. "I was angry and resentful because I thought that I deserved the right to do what I love and to do my job, and then still have privacy. And then after a few years you're like, but that's not the way it is, it's just not. It's important to just keep a separation and know that the people screaming outside of a premiere, they're screaming because of a job and because of a character."
Take the whole year if you need it, girl.
Related: [Red Sparrow Trailer: Jennifer Lawrence is a Sexy, Russian Spy](https://www.wmagazine.com/story/red-sparrow-trailer-jennifer-lawrence-sexy-russian-spy)
Watch Jennifer Lawrence reveal her cinematic crush: