Jennifer Lawrence on Doing the Explicit Red Sparrow After the 2014 Nude Photo Hack: "I Felt Like I Was Getting Something Back That Had Been Taken From Me"
"I've always been like, 'Absolutely no way'—especially after what happened—'no way am I ever gonna do anything sexual,'" said the Oscar-winning actress.
---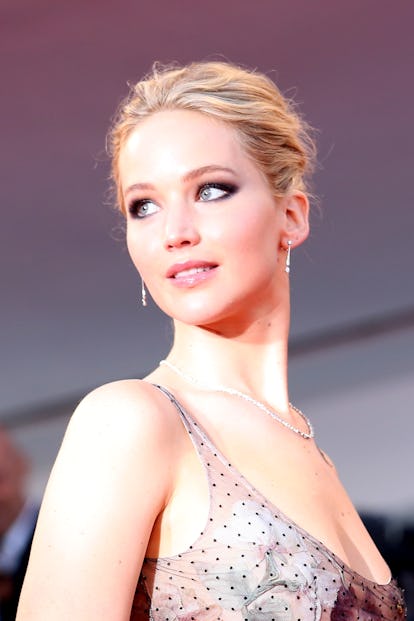 Getty.
In 2014, an iCloud hack resulted in hundreds of nude photos of celebrities, including Jennifer Lawrence, Ariana Grande, Kirsten Dunst, and Mary Elizabeth Winstead, being leaked online and posted on the forum 4chan. At the time, some stars, like Grande and the actor-musician Victoria Justice, said the images were fake; others, like Lawrence and Winstead, readily acknowledged the photos were legitimate while excoriating the hackers responsible. Three years later, Lawrence is "still actually processing" the breach of privacy, as she explained in a new interview on the Hollywood Reporter's "Awards Chatter" podcast.
"It was so unbelievably violating that you can't even put it into words," she said. "I feel like I got gang-banged by the f—ing planet—like, there's not one person in the world that is not capable of seeing these intimate photos of me. You can just be at a barbecue and somebody can just pull them up on their phone."
Lawrence continues to grapple with the consequences of the leak. "A year and a half ago, somebody said something to me about how I was 'a good role model for girls,' and I had to go into the bathroom and sob because I felt like an imposter," she said, adding that she could not comprehend that someone would still view her as a role model after the photos were released. Always reluctant to take explicitly sexual roles, Lawrence was even more reticent in the aftermath of the hack. "I've always been like, 'Absolutely no way'—especially after what happened—'no way am I ever gonna do anything sexual,'" she said.
But next up, she will star in Red Sparrow, the thriller directed by Hunger Games director Francis Lawrence (no relation), which is slated for 2018 release. Lawrence described it in the same interview as "really sexual, which has always scared me." In the film, she plays Dominika Egorova, a Russian ballerina-turned-spy who falls in love with a CIA operative, played by Joel Edgerton, and considers turning double agent.
"Doing Red Sparrow," she said, "felt like I was getting something back that had been taken from me."
Lawrence added that some of the other women whose photos had been leaked contacted her about a potential lawsuit against Apple, but she declined because a suit would not undo the sense of violation wrought by the hack. "None of that was gonna really bring me peace," she said. The photos, she explained, had been intended to be shared with just her then-boyfriend, X-Men co-star Nicholas Hoult, and "none of that was gonna bring my nude body back to me and Nic."
A subsequent hack, this time of a trove of internal Sony emails, in November 2014, just three months after the nude photo leak, revealed Lawrence had been paid less than her three male co-stars in American Hustle, igniting a renewed discussion of the gender wage gap. Lawrence, who had previously been relatively quiet on the subject of feminism (by her own admission), took the opportunity to weigh in. "Could there still be a lingering habit of trying to express our opinions in a certain way that doesn't 'offend' or scare' men?" she wrote in Lena Dunham's Lenny of her reluctance to negotiate for higher compensation on the film. "Jeremy Renner, Christian Bale, and Bradley Cooper all fought and succeeded in negotiating powerful deals for themselves. If anything, I'm sure they were commended for being fierce and tactical, while I was busy worrying about coming across as a brat and not getting my fair share."
She has since been more vocal about sexism in Hollywood, and in light of the accusations against producer Harvey Weinstein, who released Silver Linings Playbook (for which Lawrence won her Best Actress Oscar), she also said, in spite of the misogyny and mistreatment she had encountered, it had never transgressed into sexual misconduct: "I had been objectified, I had been, you know, obviously, not paid equally, I had been violated by a hacker, but I have never had a man use his power to sexually abuse me," she said on the podcast. "I had heard that he was a dog," she added of Weinstein, though their relationship was "almost paternal."
"He was never inappropriate with me," she continued. "When he acted like an asshole, I called him an asshole—I actually think the word I used was 'a sadistic monster'—but it was just never of that nature, so that was really shocking." After all, who among us has not considered their father a "sadistic monster" at one point or another.
Jennifer Lawrence reveals her cinematic crush in a candid interview with W: