Jennifer Lawrence Danced on a Stripper Pole, and Isn't Sorry About It
"I'm not gonna lie, I think my dancings pretty good. Even with no core strength."
---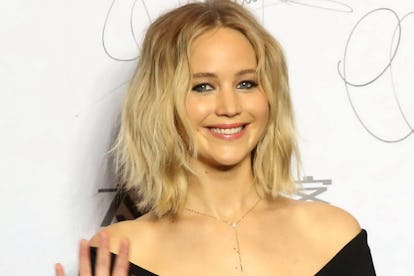 VCG/Getty Images
Don't ask Jennifer Lawrence to apologize for having a great time. A few hours after Radar Online published a video of the actress partying at the Beverly Hills Club in Vienna, Austria, where she's currently filming the movie Red Sparrow, the actress took to Facebook to clarify that, yes, she's really featured in the footage, and no, she's not even a little bit sorry about it. Also, she adds, that's an Alexander Wang top she's wearing, thank you very much.
In the video, Lawrence appears to be dancing with a man at one point and later, on one of the club's stripper poles. Radar just happened to talk to an anonymous eyewitness source who characterized the situation at its worst.
The Oscar winner quickly offered her side of the story (not that she should have to). "Look," she wrote in a post. "Nobody wants to be reminded that they tried to dance on a stripper pole by the internet. It was one of my best friend's birthdays and I dropped my paranoia guard for one second to have fun. I'm not going to apologize, I had a BLAST that night."
Oh, and about her seemingly skimpy outfit? Lawrence says it's actually an Alexander Wang top, but who expects Radar to actually be up on the latest fashion trends anyway?
She wrote, "Ps that's not a bra it's an Alexander Wang top and I'm not gonna lie, I think my dancings pretty good. Even with no core strength."
In any event, dropping into cheesy European strip clubs is actually very chic at the moment. None other than Bella Hadid, Kendall Jenner and a bevy of their other model friends dropped into France's Pink Paradise club during Paris Fashion Week earlier this year.
Related: What is Jennifer Lawrence's Mysterious Film mother! Actually About?
Jennifer Lawrence Reveals Her Cinematic Crush: