Jennifer Lopez and Alex Rodriguez Got Caught on the Kiss Cam Again
They more than made up for their first failed attempt.
---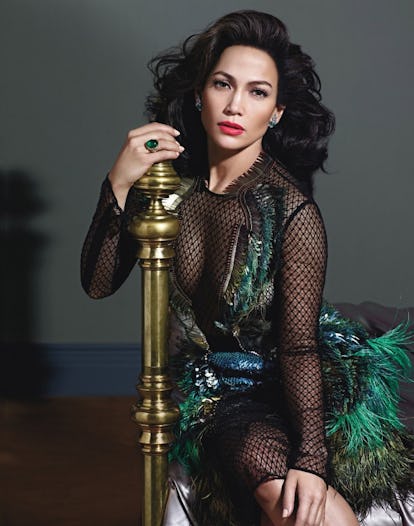 For those closely paying attention to the world of celebrities attending sports events, there were few moments last year as awkward as the one when Jennifer Lopez and her boyfriend Alex Rodriguez were caught by a kiss cam at a college football game between Virginia Tech and the University of Miami. When the Jumbotron flashed to the pair, A-Rod sheepishly bent over towards J. Lo, who carried on waving pom-poms, seemingly oblivious to her beau's motioning. Two months later, however, and Lopez has finally gotten the hang of this kiss cam thing.
Last night when the couple took in a basketball game between the University Miami and Duke, Lopez came prepared. When the camera descended upon them, she was the one who initiated a kiss with A-Rod, pulling his face towards her and planting one on his lips. A-Rod couldn't have looked happier about it either, as he was sporting an ear-to-ear grin.
Given how relatively new their relationship is, it's understandable that the two took a couple of tries to successfully master the kiss cam. J-Rod only started dating in early 2017, according to Page Six. It was just this past December when Lopez and Rodriguez gave their first joint cover story to Vanity Fair, where they talked about how much they have in common.
"We are very much twins," said A-Rod. "We're both Leos; we're both from New York; we're both Latino and about 20 other things." Meanwhile, Lopez elaborated on their connection, telling VF, "I understand him in a way that I don't think anyone else could, and he understands me in a way that no one else could ever. In his 20s, he came into big success with the biggest baseball contract [at the time]. I had a No. 1 movie and a No. 1 album and made history. We both had ups and downs and challenges in our 30s, and by our 40s we'd both been through so much. And more importantly than anything, we had both done a lot of work on ourselves." Now that they've figured out the kiss cam, they have one more thing in common.