Jennifer Lopez and Alex Rodriguez Might Take a Page from Goldie Hawn and Kurt Russell's Book of Partnership
"It's something that's still important to us, but there's no rush," Jennifer Lopez said of delaying her wedding to Alex Rodriguez.
---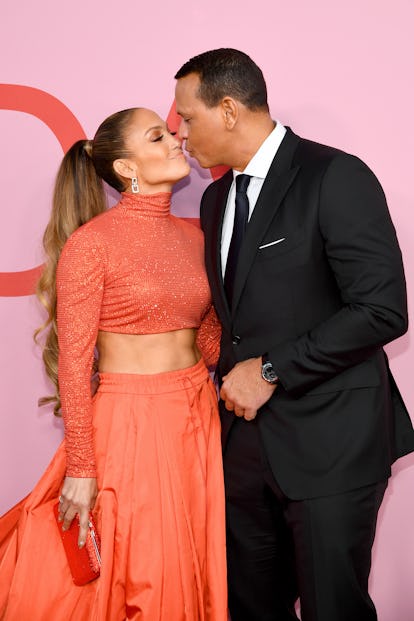 Dimitrios Kambouris/Getty Images
For many couples, the idea of a fairytale wedding had to be put on hold in 2020. Lindsay Vonn delayed her nuptials to P.K. Subban, Katy Perry and Orlando Bloom were supposed to marry each other in March but had to postpone, and Blake Shelton and Gwen Stefani got engaged but didn't even bother setting a date during the coronavirus pandemic.
Jennifer Lopez and Alex Rodriguez got engaged in March 2019, and by April 2020, they had started to get antsy about the postponement of the ceremony. "Everything is fluid. Everything has been put on pause," Rodriguez told Jimmy Fallon this spring. "And for us, we just want to make sure 'safety first,' and that all the little ones are in a good place," he added, referring to the couple's children.
But now, as we close out the year and the Covid-19 vaccine has only just begun to be distributed (to politicians, at least), it seems like J.Lo and A-Rod have chilled out a bit on the wedding front. Though they had to cancel their wedding this year, which was slated to take place in Italy in June and "tried to regroup later in the year" for a fall ceremony, they might not even bother walking down the aisle at all.
According to an interview with Andy Cohen on his SiriusXM show, Lopez told the host they might even be taking a page from the Goldie Hawn and Kurt Russell book. Hawn and Russell have been together since 1983 and share children, but they have never married. Lopez revealed that she and Rodriguez had talked about just remaining partnered without the actual wedding. "I mean at our age, we've both been married before, it's like, do we get married? Do we not? What does it mean for us? And it's just, it comes down to like personal, like, what do you want to do?" she said.
"There's definitely no rush though. It was really sad because we were supposed to get married in June and we had planned it all," Lopez admitted. "So in March or April, we're looking down the pipe and we're going, 'This is maybe not going to happen.'"
"Things will happen in their divine time," Lopez said. "It's something that's still important to us, but there's no rush. It'll happen when it happens."
Hawn and Russell aren't the only celebrity couple to go the longterm partner route. Maya Rudolph and Paul Thomas Anderson have been together since 2001 and call each other husband and wife, yet they have never married. Same goes for Rose Byrne and Bobby Cannavale, and Eva Mendes and Ryan Gosling are without a marriage certificate as well. So, J.Lo and A-Rod would be joining some esteemed celebrity couple ranks.
Related: Jennifer Lopez and Alex Rodriguez Are Getting Antsy About Their Wedding