Jennifer Lopez Returns to Rom-Coms with New Movie That Has Shades of Working Girl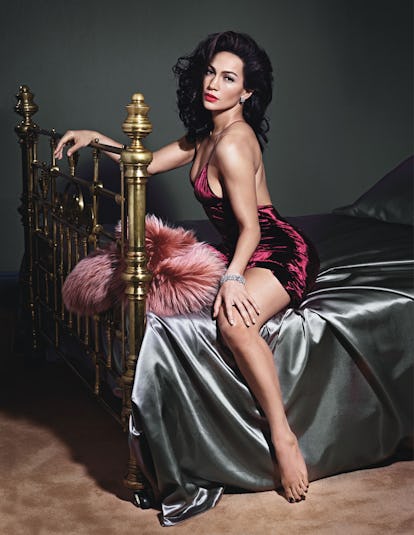 Jennifer Lopez is going back to her roots. Her film acting roots, that is.
After a long hiatus to pursue other projects, Jennifer Lopez will be returning to the big screen to star (and produce!) a new romantic comedy, a genre she excelled in with titles like The Wedding Planner, Monster-in-Law, and Maid in Manhattan.
Called Second Act, the rom-com is being teased with the following description by The Wrap: It will follow "a big box store employee who reinvents her life and gets the chance to prove to Madison Avenue that street smarts are as valuable as a college degree." In other words, it has echoes of classic romantic comedies like Mike Nichols' Working Girl.
While J.Lo has pursued many different projects over her career, her initial break came in the biopic Selena, a part she parlayed into roles in other serious films like Out of Sight with George Clooney and the thrilled The Cell. There were stumbles along the way, i.e. Gigli with then boyfriend Ben Affleck.
Julia Roberts, Jennifer Lopez, and More Actresses Who Define Aging Gracefully
Singer, actress, and dancer Jennifer Lopez looked half her age at the 59th Grammy Awards, wearing her hair sleek straight and middle-parted with a lavender smoky eye and luminous skin.

Photo by Getty.
Natural beauty Halle Berry has tried every hairstyle in the book–from her signature pixie, to long, flowing waves–and they all work for her.

Photo by Getty.
As the face of anti-aging skincare brand SK-iii, it's no surprise that Cate Blanchett has flawless skin. Case in point: the actress' radiant complexion at the 88th Annual Academy Awards.

Photo by Getty.
Brunette beauty Sandra Bullock has been in the public eye for decades, and always loves an understated, glamorous look on the red carpet.

Photo by Getty.
South African beauty Charlize Theron stunned at the 89th Annual Academy Awards wearing her hair in an elegant up do with light golden smoky eye and a satin pink lip.

Photo by Getty.
Jennifer Aniston has a go-to look: golden hair, sun-kissed skin, eyeliner, and a glossy lip. And it works for her.

Photo by Getty.
Actress Gabrielle Union always wows on the red carpet, with her bright smile and glowing complexion.

Bennett Raglin/Getty Images
Actress Kate Winslet poses at the EE British Academy Film Awards wearing her hair in tousled curls with creamy, porcelain skin and a satin red lip.

Photo by Getty.
Always radiating with luminous, sun-kissed skin and golden waves, Kate Hudson attends the 2017 Vanity Fair Oscar Party.

Getty.
Actress Amy Adams made her cinematic debut in the '90s, and is still a red carpet favorite today.

Pascal Le Segretain/Getty Images
Reese Witherspoon always knows how to keep her look timely and fresh, as she proved here at the 2017 Vanity Fair Oscar Party.

Getty.
For Eva Mendes, her luscious brown waves and luminous, sun-kissed skin have always been a red carpet staple.

Getty.
Angelina Jolie may no longer try daring hairstyles like a buzzcut, but she has maintained her classic beauty flawlessly.

Photo by Getty.
More recently, her lighter film work has included The Back-up Plan and What to Expect When You're Expecting, although those didn't achieve the same amount of success at the box office.
"There are so many things I love about this project and script," Lopez said in a statement that announced Second Act. "People try to put women to sleep at a certain age. 'Second Act' is a story that empowers the every woman to do more, to be more, and not limit their dreams. I am thrilled to…continue to create and empower the female audience."
Interestingly, the last time Lopez released a new album was in 2014, but she's been all over television with her small-screen roles. Currently, she's one of the three judges on NBC's well-received dance competition series World of Dance alongside Derek Hough and Ne-Yo, and she's also costarring in NBC's crime-drama Shades of Blue with Ray Liotta, which is in its third season.
Next year, she'll prove to be NBC's go-to star once again by headlining its Bye Bye Birdie! live musical.
How Jennifer Lopez's Glitzy Style Went From Demure to Daring
Jennifer Lopez arrives on the red carpet for the 69th Annual Academy Awards on March 24, 1997 at the Shrine Auditorium in Los Angeles, California. Photo courtesy of Getty Images.

Getty Images
Jennifer Lopez during The 40th Annual GRAMMY Awards at Radio City Music Hall in New York City, New York, United States. Photo courtesy of Getty Images.

Getty Images
Jennifer Lopez at the VH1 Fashion Awards in New York, New York, October 1998. Photo courtesy of Getty Images.

Getty Images
Jennifer Lopez at the Vanity Fair Oscar Party in Los Angeles, California, March 1999. Photo courtesy of Getty Images.

Getty Images
Jennifer Lopez at the Grammy Awards in Los Angeles, California, March 2000. Photo courtesy of Getty Images.

Getty Images
Jennifer Lopez at the Golden Globes in Beverly Hills, California, January 2001. Photo courtesy of Getty Images.

Getty Images
Jennifer Lopez at the 73rd annual Academy Awards in Los Angeles, California, March 2001. Photo courtesy of Getty Images.

Getty Images
Jennifer Lopez at the 75th annual Academy Awards in Hollywood, California, March 2003. Photo courtesy of Getty Images.

Getty Images
Jennifer Lopez at the 61st annual Golden Globes in Beverly Hills, California, January 2004. Photo courtesy of Getty Images.

Getty Images
Jennifer Lopez at the 66th annual Golden Globes in Los Angeles, California, January 2009. Photo courtesy of Getty Images.

Getty Images
Jennifer Lopez at the 68th annual Golden Globes in Beverly Hills, California, January 2011. Photo courtesy of Getty Images.

Getty Images
Jennifer Lopez at the Cannes Film Festival in Cap d'Antibes, France, May 2010. Photo courtesy of Getty Images.

Getty Images
Jennifer Lopez at the Vanity Fair Oscar Party in Beverly Hills, California, February 2015. Photo courtesy of Getty Images.

Getty Images
Jennifer Lopez at the 87th annual Academy Awards in Hollywood, California, February 2015. Photo courtesy of Getty Images.

Getty Images
Jennifer Lopez at the Metropolitan Museum of Art Costume Institute Gala in New York, New York, May 2015. Photo courtesy of Getty Images.

Getty Images
Jennifer Lopez at the 73rd annual Golden Globes in Beverly Hills, California, January 2016. Photo courtesy of Getty Images.

Getty Images
Jennifer Lopez arrives at the MTV Movie Awards held at the Nokia Theater in L.A., April 2015. Photo courtesy of Getty Images.

Getty Images
Jennifer Lopez attends the 59th GRAMMY Awards at STAPLES Center on February 12, 2017 in Los Angeles, California. Photo courtesy of Getty Images.

Getty Images
Jennifer Lopez attends the "Rei Kawakubo/Comme des Garcons: Art Of The In-Between" Costume Institute Gala at Metropolitan Museum of Art on May 1, 2017 in New York City. Photo courtesy of Getty Images.

Getty Images
Jennifer Lopez attends the Billboard Latin Music Awards at Watsco Center on April 27, 2017 in Coral Gables, Florida. Photo courtesy of Getty Images.

Getty Images
Jennifer Lopez attends the 2017 NBCUniversal Upfront at Radio City Music Hall on May 15, 2017 in New York City. Photo courtesy of Getty Images.

Getty Images
Jennifer Lopez attends the 2018 Time 100 Gala at Frederick P. Rose Hall, Jazz at Lincoln Center on April 24, 2018 in New York City. Photo courtesy of Getty Images.

Getty Images
Jennifer Lopez on the red carpet at the Latin Billboard Awards in Las Vegas, NV on April 26, 2018. Photo courtesy of Getty Images.

Getty Images
Jennifer Lopez and Alex Rodriguez attends the Heavenly Bodies: Fashion & The Catholic Imagination Costume Institute Gala at Metropolitan Museum of Art on May 7, 2018 in New York City. Photo courtesy of Getty Images.

Getty Images
Jennifer Lopez attends the 2018 MTV Video Music Awards at Radio City Music Hall on August 20, 2018 in New York City. Photo courtesy of Getty Images.

Getty Images
Jennifer Lopez attends the 'Second Act' World Premiere at Regal Union Square Theatre, Stadium 14 on December 12, 2018 in New York City. Photo courtesy of Getty Images.

Getty Images
Jennifer Lopez attends the 61st Annual GRAMMY Awards at Staples Center on February 10, 2019 in Los Angeles, California. Photo courtesy of Getty Images.

Getty Images
Jennifer Lopez attends 2019 Vanity Fair Oscar Party Hosted By Radhika Jones at Wallis Annenberg Center for the Performing Arts on February 24, 2019 in Beverly Hills, California. Photo courtesy of Getty Images.

Getty Images
Jennifer Lopez attends The 2019 Met Gala Celebrating Camp: Notes on Fashion at Metropolitan Museum of Art on May 06, 2019 in New York City. Photo courtesy of Getty Images.

Getty Images
Jennifer Lopez attends the CFDA Fashion Awards at the Brooklyn Museum of Art on June 03, 2019 in New York City. Photo courtesy of Getty Images.

Getty Images
What Happens When Jennifer Lopez Remixes "Baby Got Back" by Sir Mix-A-Lot
What Happens When Jennifer Lopez Remixes "Baby Got Back" by Sir Mix-A-Lot