Jennifer Lopez's World of Dance Is Heartbreaking, Staggering TV
The case for NBC's reality dance competition as the best show you're not watching.
---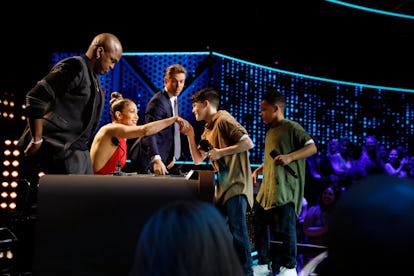 Courtesy NBC
Yes, we've all heard about Peak TV this and Peak TV that, but guess what? Suddenly, there sure seems to be nothing to watch these days. The Handmaid's Tale has come and gone and those of us without self-control have greedily binged the new seasons of House of Cards and Orange is the New Black (both somewhat disappointing). The Leftovers has left for good (sheds single tear) and while the Twin Peaks reboot is everything we could have hoped for, waiting for it to air each week is agonizing.
This would be a good time for some easygoing summer escapism. There's this season of RuPaul's Drag Race (which in my opinion has been a little spotty) and, of course, The Bachelorette, a dependable pleasure that now, because of its scandalized sister series Bachelor in Paradise, tastes a little off.
But I urge you to consider another option. Be warned: It's a show with a premise so hokey and judges so vanilla you'll be embarrassed to admit you enjoy it, but enjoy it you will. I'm talking about World of Dance. Yes, the same NBC dance competition fronted by Jennifer Lopez whose posters you saw wheat-pasted onto a grimy subway wall, but hear me out.
There are many reasons why this show is mindlessly enjoyable, not least of all the actual dancing.
It's worth watching for J. Lo alone.
Here's a woman whose face deserves to be on television at any given time of year. (I don't watch her other NBC show, Shades of Blue, but my mom seems to enjoy it). J. Lo isn't just delivering face and star power. She cries, she stands up and shakes that famous booty, she offers words of wisdom (this week, she told a child dancer to "stay in touch with that little girl with all the hope" and I nearly lost it). Sometimes she even critiques the Latin dancers in Spanish.
The judging panel is rounded out with Ne-Yo and Dancing With the Stars' Derek Hough, two dudes that would illicit a "meh" but who actually really know what they're talking about when it comes to dance. All three judges are charismatic without appearing to try too hard, and seem genuinely invested in the competition they're judging, which raises the stakes.
Speaking of stakes: the stakes are high.
The winner of this thing doesn't just get 15 minutes of fame and a bogus title, they get a million dollars, and a million dollars makes any reality series more interesting.
Now let's talk about the dancing.
The judges, as well as host Jenna Dewan Tatum, who showed off her own moves opposite husband Channing in the generational classic Step Up (sidebar: Step Up should definitely have made the Times's top 25 movies of the 21st century list), repeatedly remind us that this is "The Olympics of Dance," and by god it is. These aren't just nobodies hitting a televised dance floor for the very first time. These are winners of other dance competition shows (So You Think You Can Dance winner Fik-Shun and America's Best Dance Crew winner/Master of None guest stars the Jabbawockeez), YouTube sensations (that couple who did the bed dance to Justin Bieber's "Love Yourself"), and Beyoncé backup dancers Les Twins. This means that the caliber of dance is unlike any other dance competition show, and, at the end of the day, who doesn't love watching super-talented people dance?
But the most embarrassing reason to watch World of Dance is the emotional catharsis.
On this program, pretty much every dancer comes with a harrowing backstory—an emotional trauma that only dance can free them from. And because there is a "junior" category, some of these dancers are children. As Dewan Tatum clutches their parents' hands backstage and the judges tally their scores, it's impossible not to feel emotionally involved.
So watch it alone, watch it in secret, or watch it with your mom, but just watch this show. Trust us on this one.
Jennifer Lopez's Boy Toys, from Diddy to Drake, Have Never Been Able to Measure Up to Her Style
JLo may have started seeing David Cruz when she was just 15, but she went on to date her first love for a full decade, making for plenty of '90s fashion moments even after they split up, like this tank dress in 1995.

Ron Galella/Getty Images
Even though JLo met the actor Wesley Snipes when filming a sex scene she later publicly called "horrible," she went on to date Snipes briefly after filming wrapped, this time keeping showcasing a bit more demure '90s fashion.

Tom Wargacki/Getty Images
Long before JLo's first husband Ojani Noa threatened to release a sex tape of her last year, the pair met in a Cuban restaurant where he was a waiter, making for a year-long marriage that saw JLo in body con dresses and blue eye shadow while he opted for hot pink button-ups.

S. Granitz/Getty Images
Fresh from divorcing Noa, JLo broke out the thigh-skimming dresses and started straightening her hair for her fling with music executive Tommy Mottola—also a recent divorcé, who was rebounding from Mariah Carey.

Jeff Kravitz/Getty Images
In their two years of dating, JLo and Diddy hardly shied from the opportunity to coordinate outfits, matching in white (but sadly not in crop tops) for events like the 2000 VMAs.

WireImage/Getty Images
Diddy reprised the all-white look at the Grammy Awards later that year, while JLo busted out a green Versace dress now so iconic, it has its own Wikipedia page.

Scott Gries/Getty Images
Cris Judd was the first of several back-up dancers JLo ended up having flings with, and definitely the first she married, marking a two-year relationship full of early aughts style and hairdos like a mop of floppy curls.

Ron Galella, Ltd./Getty Images
Bennifer met on-set of Gigli in 2002 and dated for the next two years, until calling off their engagement in 2004—a time full of plenty of t-shirts and off-color ties for Affleck, and fur and floor-length, high slitted gowns for JLo. (Not to mention all her crop tops alongside Affleck in the video for "Jenny from the Block."

James Devaney/Getty Images
Post-Ben, JLo found her groove with Marc Anthony, whom she was married to for seven years, having twins named Max and Emme before divorcing in 2011, a year that nonetheless saw JLo looking her best in silver Emilio Pucci sequins at the Grammy Awards.

Larry Busacca/Getty Images
That same year, JLo was rumored to have had a fling with another mustachioed man: her What to Expect When You're Expecting costar Rodrigo Santoro, whom she made plenty of red carpet appearances with, like in this sheer gown at the film's L.A. premiere.

Kevin Winter/Getty Images
Other than a few sneaky dinners, JLo and Bradley Cooper were rarely seen in public together, but they made enough appearances together—even front row at Tommy Hilfiger—for JLo to bring out the thigh-high boots.

Theo Wargo/Getty Images
JLo's real beau post-Marc Anthony, though, was another, much younger backup dancer named Casper Smart, whom she dated all the way up until 2016, when she wore this much more sophisticated take on her Diddy-era head-to-toe white.

Jesse Grant/Getty Images
Though things were never confirmed between the pair, it's hard to imagine there wasn't tension (or at least plenty of sweat) between JLo and the Dancing with the Stars star Maksim Chmerkovskiy. (As her first husband Ojani Noa can attest, JLo does seem to love a hot pink button-up.)

Lester Cohen/Getty Images
It seemed entirely possible that JLo and Drake's much buzzed about relationship had continued into 2017 until this week, when the first song on Drake's new album made it pretty clear things have ended with the lyrics "I drunk text J. Lo / Old numbers so I bounce back." Still, the Instagrams of their short-lived time together live on, blurry as they are, but clear enough to show the pair at least shared a love for bling.

Courtesy of @jlo
Things appear to still be starting out for JLo and Alex Rodriguez, which seems to be why the pair left dinner separately in Miami—and why JLo pulled out an eye-catching, tight-fitting dress in what now seems to signal a serious move for her: all-white.

Courtesy of @extratv
What happens when Jennifer Lopez remixes "Baby Got Back":