Jennifer Lopez Almost Robbed Us of Google Images
Aided and abetted by Donatella Versace.
---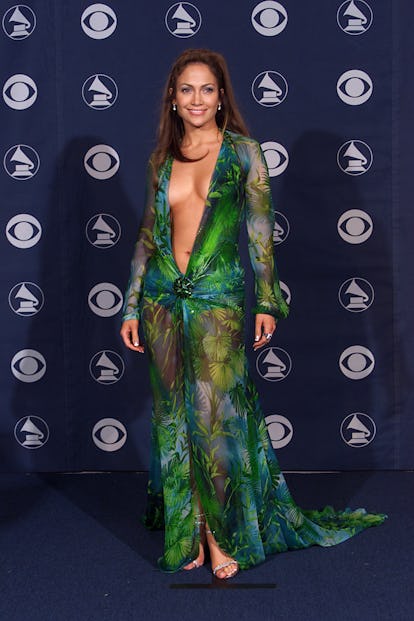 Scott Gries/ImageDirect/Getty Images
Nearly 20 years ago, a new legend entered American folklore: that of the origins of Google Images. Once upon a time, in March of 2000, Jennifer Lopez wore a blue-green tropical-print Versace gown made of silk chiffon, which plunged far enough down Lopez's torso to show off her navel. And, as the story goes, so many people were compelled by a desire to see it for themselves that Google decided to roll out a visual counterpart to its default search engine that you've probably spent hours of your life scrolling through since.
It's no surprise, then, that Lopez revisited that fateful night to launch her new career as a vlogger, which began with a video titled "Moments of Fashion" that she uploaded late last week. In reminiscing, she referred to that fateful night as her "biggest fashion moment ever"—and also casually mentioned the fact that it almost never came to be.
According to Lopez, she was "out in the middle of nowhere" with Matthew McConaughey, filming a horse-riding scene in The Wedding Planner, when her stylist showed up, bearing news that the Grammy Awards were the very next day. Even more dramatically, there was also apparently "nothing out there" for Lopez to wear to the event, seeing as Lopez had put off the fitting for weeks. (Leave it to J.Lo, who was one of that year's nominees, to not think the Grammys are a big deal—though she now attributes her negligence to her nonstop schedule of going between the recording studio and the movie set.)
Despite there being "nothing" out there, Lopez's stylist did manage to come up with two dresses just in time, when Lopez was in the middle of doing her hair and makeup in the hours leading up to the awards. As far as her stylist was concerned, though, there was only one option: a "kind of a white dress or something like that," Lopez said. The other, of course, was the Versace, which came with a hitch: Three different people—including Donatella Versace herself—had worn it out in public since its 1999 debut on the runway.
Of course, Lopez ended up becoming the fourth person, to her manager and "trusted consigliere" Benny Medina's delight. (Her stylist, on the other hand, was "mortified.") At first, Lopez wasn't entirely on board herself: It took quite a bit of "toupee tape" to address her fear that her "boobs were gonna pop out on stage." Fortunately, that never came to pass; otherwise, Lopez, who promptly received an "ovation for just standing there," might very well have broken the Internet.
Related: The Best Jennifer Lopez Movie Is the One Told By the Hustlers Set Photos
How Jennifer Lopez's Glitzy Style Went From Demure to Daring
Jennifer Lopez arrives on the red carpet for the 69th Annual Academy Awards on March 24, 1997 at the Shrine Auditorium in Los Angeles, California. Photo courtesy of Getty Images.

Getty Images
Jennifer Lopez during The 40th Annual GRAMMY Awards at Radio City Music Hall in New York City, New York, United States. Photo courtesy of Getty Images.

Getty Images
Jennifer Lopez at the VH1 Fashion Awards in New York, New York, October 1998. Photo courtesy of Getty Images.

Getty Images
Jennifer Lopez at the Vanity Fair Oscar Party in Los Angeles, California, March 1999. Photo courtesy of Getty Images.

Getty Images
Jennifer Lopez at the Grammy Awards in Los Angeles, California, March 2000. Photo courtesy of Getty Images.

Getty Images
Jennifer Lopez at the Golden Globes in Beverly Hills, California, January 2001. Photo courtesy of Getty Images.

Getty Images
Jennifer Lopez at the 73rd annual Academy Awards in Los Angeles, California, March 2001. Photo courtesy of Getty Images.

Getty Images
Jennifer Lopez at the 75th annual Academy Awards in Hollywood, California, March 2003. Photo courtesy of Getty Images.

Getty Images
Jennifer Lopez at the 61st annual Golden Globes in Beverly Hills, California, January 2004. Photo courtesy of Getty Images.

Getty Images
Jennifer Lopez at the 66th annual Golden Globes in Los Angeles, California, January 2009. Photo courtesy of Getty Images.

Getty Images
Jennifer Lopez at the 68th annual Golden Globes in Beverly Hills, California, January 2011. Photo courtesy of Getty Images.

Getty Images
Jennifer Lopez at the Cannes Film Festival in Cap d'Antibes, France, May 2010. Photo courtesy of Getty Images.

Getty Images
Jennifer Lopez at the Vanity Fair Oscar Party in Beverly Hills, California, February 2015. Photo courtesy of Getty Images.

Getty Images
Jennifer Lopez at the 87th annual Academy Awards in Hollywood, California, February 2015. Photo courtesy of Getty Images.

Getty Images
Jennifer Lopez at the Metropolitan Museum of Art Costume Institute Gala in New York, New York, May 2015. Photo courtesy of Getty Images.

Getty Images
Jennifer Lopez at the 73rd annual Golden Globes in Beverly Hills, California, January 2016. Photo courtesy of Getty Images.

Getty Images
Jennifer Lopez arrives at the MTV Movie Awards held at the Nokia Theater in L.A., April 2015. Photo courtesy of Getty Images.

Getty Images
Jennifer Lopez attends the 59th GRAMMY Awards at STAPLES Center on February 12, 2017 in Los Angeles, California. Photo courtesy of Getty Images.

Getty Images
Jennifer Lopez attends the "Rei Kawakubo/Comme des Garcons: Art Of The In-Between" Costume Institute Gala at Metropolitan Museum of Art on May 1, 2017 in New York City. Photo courtesy of Getty Images.

Getty Images
Jennifer Lopez attends the Billboard Latin Music Awards at Watsco Center on April 27, 2017 in Coral Gables, Florida. Photo courtesy of Getty Images.

Getty Images
Jennifer Lopez attends the 2017 NBCUniversal Upfront at Radio City Music Hall on May 15, 2017 in New York City. Photo courtesy of Getty Images.

Getty Images
Jennifer Lopez attends the 2018 Time 100 Gala at Frederick P. Rose Hall, Jazz at Lincoln Center on April 24, 2018 in New York City. Photo courtesy of Getty Images.

Getty Images
Jennifer Lopez on the red carpet at the Latin Billboard Awards in Las Vegas, NV on April 26, 2018. Photo courtesy of Getty Images.

Getty Images
Jennifer Lopez and Alex Rodriguez attends the Heavenly Bodies: Fashion & The Catholic Imagination Costume Institute Gala at Metropolitan Museum of Art on May 7, 2018 in New York City. Photo courtesy of Getty Images.

Getty Images
Jennifer Lopez attends the 2018 MTV Video Music Awards at Radio City Music Hall on August 20, 2018 in New York City. Photo courtesy of Getty Images.

Getty Images
Jennifer Lopez attends the 'Second Act' World Premiere at Regal Union Square Theatre, Stadium 14 on December 12, 2018 in New York City. Photo courtesy of Getty Images.

Getty Images
Jennifer Lopez attends the 61st Annual GRAMMY Awards at Staples Center on February 10, 2019 in Los Angeles, California. Photo courtesy of Getty Images.

Getty Images
Jennifer Lopez attends 2019 Vanity Fair Oscar Party Hosted By Radhika Jones at Wallis Annenberg Center for the Performing Arts on February 24, 2019 in Beverly Hills, California. Photo courtesy of Getty Images.

Getty Images
Jennifer Lopez attends The 2019 Met Gala Celebrating Camp: Notes on Fashion at Metropolitan Museum of Art on May 06, 2019 in New York City. Photo courtesy of Getty Images.

Getty Images
Jennifer Lopez attends the CFDA Fashion Awards at the Brooklyn Museum of Art on June 03, 2019 in New York City. Photo courtesy of Getty Images.

Getty Images