In Her Book Sour Heart, Jenny Zhang Arrives as a Chinese-American Voice We Haven't Heard Yet
Writer and poet Jenny Zhang on Sour Heart, a visceral portrait of Chinese-American girls in New York in the '90s.
---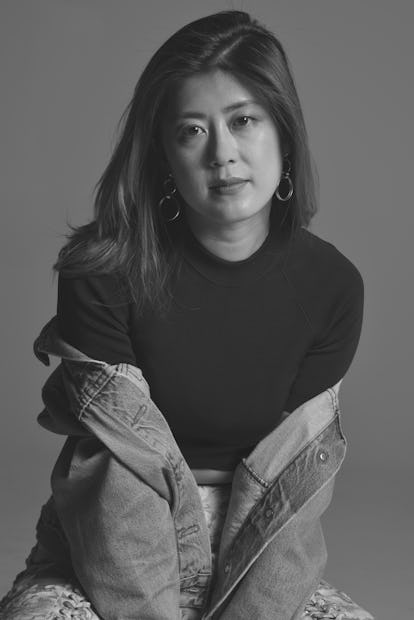 Photo by Alex Hodor-Lee for W Magazine.
When Jenny Zhang was 19 and a sophomore at Stanford, she wrote a short story called "The Evolution of My Brother." It depicted the relationship between the narrator—a young woman named Jenny, the daughter of recent Chinese immigrants—and her younger brother over the course of her adolescence as she begins to distance herself, as all teens do, from her family. Several years later, Zhang exhumed the story at the Iowa Writers' Workshop, where she began to revise it.
"A fellow student was like, 'This is a really great story but it doesn't seem like we ever find out what the brother's personality is.' And I was like, 'That's so short-sighted, this story is literally perfect,'" Zhang, now 33, said with a laugh recently.
Fourteen years after its first draft, "The Evolution of My Brother" appears at the center of Zhang's much-anticipated debut fiction collection, Sour Heart, a series of seven stories largely composed during her time at Iowa that explore the narratives of the daughters of Chinese immigrants coming of age in New York circa the '90s. Out this Tuesday, Sour Heart is also the first release by Lena Dunham's Lenny imprint.
In Sour Heart, it's a given that the stories all play out within the same fictionalized universe. Christina, the protagonist of both the first story, "We Love You Crispina," and the last, "You Fell Into the River and I Saved You!," and the character for whom the collection is named ("sour girl," "sours," "tartberry," and "sour honeybee" are all diminutives Christina's mom uses to describe her), is the faded memory of a houseguest in "The Empty the Empty the Empty"; her family's story is held up as a cautionary tale in "The Evolution of My Brother."
"As you get older, you realize you're only the protagonist in your own story, and a blip in someone else's life," Zhang said. "I don't think I was, as a human, equipped to think like that when I was 19 because I was so concerned with myself and I thought so intensely about myself," she added. "It was really relieving, because it made me think I had, hopefully, fingers crossed, progressed as a person."
The stories in Sour Heart have their roots in Zhang's own biography—even if her characters are, she warned, "by no means representative of all Chinese immigrants who immigrated to the United States, or even New York in the '90s." Born in Shanghai in 1983, she moved to New York when she was about to start kindergarten. Her parents had already arrived three years prior; her dad was part of the first wave of students to come to the United States when China opened its borders in the '70s, and her mom followed six months later. He planned to earn a doctorate in linguistics from New York University, but dropped out shortly before his dissertation defense; for a time, he taught as a substitute teacher, bringing home discarded books and newspapers.
As a child, Zhang had "this desperate devotion to words," as she described it, writing and telling stories despite the complications of an initial language barrier. "I loved to entertain," she said.
Fiction came first, but she soon found poetry; in addition to Sour Heart, Zhang has published a collection of poems, Dear Jenny, We Are All Find, and the chapbook HAGS. She began writing essays and reportage when "adulthood started strangling me with its demands," she said—she was among the first recruits to Rookie when Tavi Gevinson founded the site in 2011, and her 2015 essay for Poetry magazine, "How It Feels," was nominated for a National Magazine Award the following year. The essay tackled her own depression in high school; the specificity and intense focus of her writing lends itself, too, to the stories in Sour Heart—to the the different forms of fear and violence within its pages; the joys and thrills and cruelties traded among young girls; the way emotions and memories are transmitted across generations; how language—and its deficits—structure experience.
"I'm always interested in what is seen as obscene or profane or unfit," she said. "The reader who likes my stories, I think they would see the violence on the surface, but I think they would also see a deeper violence—the one that's not as showy or as immediately arresting, but kind of the more unsolvable violence that lurks underneath."
In addition to veering back towards poetry in the wake of Sour Heart, Zhang has also begun work on a novel, though she cautioned not to expect any teenage protagonists: "I don't think I can ever write about young kids anymore," she said. "I completely shot my wad there."
Chris Hemsworth thinks Charlize Theron should be the next James Bond: