Hot Felon Jeremy Meeks and Topshop Heiress Chloe Green Are Expecting a Child
The so-called #partnersincrime are taking their relationship to another level.
---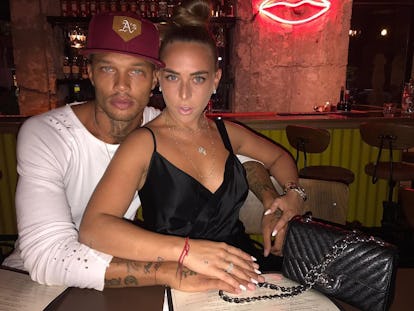 Photo by Jim Jordan, courtesy of @chloegreen5
In the next saga of one of fashion and pop culture's least expected couples, Jeremy Meeks and Chloe Green are now expecting a child together—one that's already guaranteed to have an interesting origin story. Whereas Meeks found fame when a mug shot taken when he was a forklift operator under arrest in California earned him the title "Hot Felon," making way for him to become a model, Green has been practically famous since birth for being the daughter of British retail billionaire Philip Green, making her the eventual heiress to the Topshop fortune.
Us Weekly exclusively reported the pregnancy news on Monday, less than a year after Meeks, who's 34, and Green, who's 27, were first seen together last summer. (At the time, Meeks was still married to his now ex-wife, who quickly filed for separation.)
By the next month, Meeks was publicly declaring his love for Green—a feeling that's clearly mutual. Like Meeks, Green has seemed unable to stop posting on social media about their love for each other ever since, recently calling him her "everything" and, ha ha, "#partnerincrime."
Police arrested Meeks, who was once part of the Crips gang, in 2014 for being a convicted felon in possession of a weapon (a federal charge for which he was later convicted, along with grand theft). They also unintentionally handed him a new career by posting his mug shot on Facebook as proof of their so-called "Operation Ceasefire," which so beautifully captured his blue eyes and bone structure that it went viral. (His modeling career has since been so successful that he now considers Carine Roitfeld to be his "fashion godmother.")
Meeks already has a son named Jeremy Jr. and two stepchildren with his ex-wife. For Green, this will be her first child. There's no word on when she's expecting, but it already seems pretty certain that the child is destined to have blue eyes.
Related: Philipp Plein Fall 2017: Madonna, Kylie Jenner and the "Hot Felon" Help to Make NYFW "Great" Again