Take a Tour of Moschino's New Clubhouse
Jeremy Scott talks about his over-the-top new SoHo boutique.
---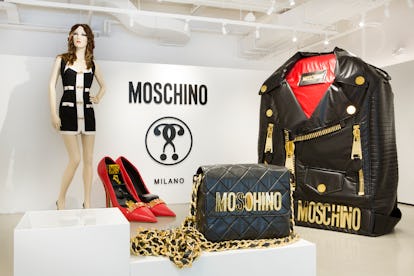 Jeremy Scott doesn't do anything half way. Case in point: the new Moschino flagship store in New York. Located in SoHo, the shop is outfitted with larger-than-life mannequins, oversized accessories, and shelves in the form of monumental merchandise—the perfect visual compliment for Scott's over-the-top aesthetic. Whitewashed and with soaring ceilings, the space offers a generous area for Scott to stage his most outlandish installations. Before the doors opened, the eccentric fashion designer opened up about his inspiration, favorite haunts and more.
What is the most exciting part about having a New York flagship? The most exciting thing is how many more people will be able to access the store, as the foot traffic is so more than any other US city. I wanted the store to be a place that you want to go in and take a closer look because it looks exciting inside.
What was your inspiration for the store? I designed it in a way that it can take different incarnations and can evolve and change as I see fit for the different collections. I wanted to approach the space like a gallery and think of it having rotating exhibitions.
How did you choose the location? I'm so happy to open the new Moschino store in SoHo! It's been a long search for me to find the right space in SoHo that could capture my vision and accommodate the large installation pieces I've created for the store.
What are your favorite places to go downtown? I love to eat avocado tacos at La Esquina, get cookies from Birdbath Bakery, and just walk through the streets!
Photos: Take a Tour of Moschino's New Clubhouse
Photo courtesy of the brand.
Photo courtesy of the brand.
Photo courtesy of the brand.