Jeremy Scott, "Undercover Ugg Fan," Comes Out of Hiding, Designs Some Uggs
Because we're all nostalgic for Britney Spears, Kate Hudson, and, of course, the early-'00s, apparently.
---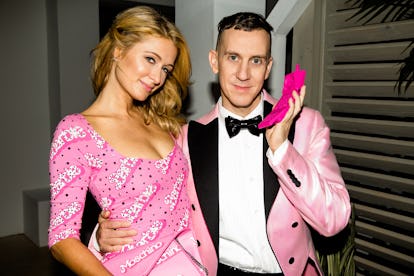 Jeremy Scott really likes Uggs. In fact, he likes Uggs so much he's designing Uggs.
In an announcement Friday, Scott, the Los Angeles-based designer behind both Moschino and his eponymous label, unveiled a new capsule collaboration with the shearling boot brand; the eight styles, ranging in price from $90 to $1,195, is slated to debut September 13. (Ugg is also set to debut a collaboration with 3.1 Phillip Lim in October; previously, the brand released a capsule collection with Jimmy Choo.) The designs include a black boot embroidered with crystal and bead flowers, a camel-colored boot with flames licking the ankles (a wearable answer to the fire emoji), and brown boots with "Ugg" embroidered on one and "Life" on the other in a gothic typeface.
Friday's announcement was the most recent in quite a big week for Scott: He rang in his 42nd birthday on Tuesday, and then, also on Friday, he released the Moschino collaboration with Sephora.
Scott told WWD he first tried Uggs while staying at Waikiki on Hawaii's Oahu and fell in love with their look, whether paired with pants or shorts. "It's not known for men to wear them so much here," he explained, "even though they are surfer-dude footwear." Apparently, the boots reminded him of Los Angeles and Malibu in the early-'00s—"That was my first impression, of Kate Hudson and Britney Spears wearing them," he said. (Certainly not Paris Hilton.) "There's a sense of nostalgia for that era right now." Ugg boots, best paired with your finest going-out top.
The self-professed "undercover Ugg fan" happened to stumble into the Ugg store at Los Angeles's The Grove shopping center and decided then and there, "I'm going to do this. I don't care what people say," he recalled. His assistant reached out to Ugg, and found the SoCal-based brand already had its eye on Scott. Turns out, the undercover fandom was mutual. Plus, there's a utilitarian leaning to Scott's collaboration: "They are so cozy," he said.
Related: Sita Abellan Has the Approval of Rihanna, Jeremy Scott
Paris Hilton breaks down her 13 favorite '00s trends, and why they're still hot:
TRL Is Back! Revisit Some of the Show's Most Iconic, Early 2000s Fashion Moments
Rihanna poses for a photo backstage during MTV's Total Request Live at the MTV Times Square Studios on May 8, 2007 in New York City.

Getty
Britney Spears backstage at a taping of MTV's "TRL" in Times Square.

Getty
Kanye West during MTV's "TRL" announcing the nominations for the 2007 MTV Video Music Awards at MTV Studios in Times Square on August 7, 2007 in New York City.

Getty
Shakira and Carson Daly during MTV's Spankin' New Music Week on TRL at the MTV studios in New York City.

Getty
Christina Aguilera during "Spankin' New Music Week" on TRL at the MTV studios in New York City.

Getty
Jessica Simpson and Damien Fahey during a taping of MTV's "TRL" in Times Square.

Getty
Gwyneth Paltrow poses for a photo backstage during MTV's Total Request Live at the MTV Times Square Studios September 16, 2004 in New York City.

Getty
Daniel Radcliffe and Emma Watson appear on stage during MTV's Total Request Live at the MTV Times Square Studios May 24, 2004 in New York City.

Getty
NEAlicia Keys poses for a photo backstage during MTV's Total Request Live at the MTV Times Square Studios December 21, 2005 in New York City.

Getty
Beyonce Knowles makes an appearance on MTV's Total Request Live on February 28, 2007 in New York City.

Getty
Paris Hilton at the MTV Studios Times Square in New York City, New York.

Getty
Charlize Theron attends a taping of MTV's "TRL" in Times Square.

Getty
Avril Lavigne attends a taping of MTV's "TRL" in Times Square.

Getty
Amy Adams appears onstage during MTV's Total Request Live at the MTV Times Square Studios November 19, 2007 in New York City.

Getty
Solange Knowles visits MTV's "TRL" at the MTV studios in Times Square August 26, 2008 in New York City.

Getty
Taylor Swift poses for a photo backstage during MTV's Total Request Live on June 16, 2008 at the MTV Times Square Studios in New York City.

Getty
Jennifer Lopez and Carson Daly at a taping of MTV's "TRL" in Times Square.

Getty
Kris Jenner and Kim Kardashian arrive at the "TRL" taping at the MTV Studios in Manhattan on August 25, 2008 in New York City.

Getty
Ashley Olsen and Mary Kate Olsen during visit MTV's "TRL" – May 5, 2004 at MTV Studios, Time Square in New York City, New York, United States.

Getty
Keira Knightley during Keira Knightley Visits MTV's "TRL" – June 28, 2004 at MTV Studios in New York City, New York, United States.

Getty
Gwen Stefani with the Harajuku Girls during "TRL" – March 22, 2005 at MTV Studios, Times Square in New York City, New York, United States.

Getty
Lauren Conrad visits MTV's "TRL" – September 14, 2005 at MTV Studios in New York City, New York, United States.

Getty
Michelle Williams, Kelly Rowland and Beyonce Knowles of Destiny's Child visit MTV's "TRL" in Times Square.

Getty
Lindsay Lohan visits MTV's "TRL" – December 7, 2004 at MTV Studios in New York City, NY, United States.

Getty
Anne Hathaway visits MTV "TRL" – June 29, 2006 at MTV Studios in New York City, New York, United States.

Getty
Ashlee Simpson visits MTV's "TRL" – September 20, 2004 at MTV Studios – Times Square in New York City, New York, United States.

Getty
Miley Cyrus appears on MTV's "TRL" at the MTV studios in Times Square on July 18, 2008 in New York City.

Getty
Rachel Bilson visits MTV's "TRL" – February 23, 2005 at MTV Studios in New York City, NY, United States.

Getty
Cameron Diaz, Lucy Liu and Drew Barrymore visit MTV's "TRL" – June 26, 2003 at MTV Studios Times Square in New York City, New York, United States.

Getty
Carson Daly and Angelina Jolie during a taping of MTV's "TRL" at MTV Studios- Times Square in New York City, New York, United States.

Getty