Jerry Zipkin: A Girl's Best Friend
Society guy Jerry Zipkin lived for his gal pals.
---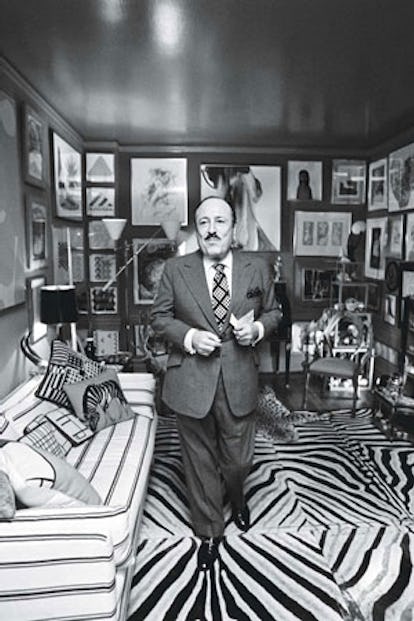 He was beloved and despised, but most of all, he was there: at parties and luncheons, at La Grenouille and the Palm and in the pages of W more than perhaps any other man. That's because Jerry Zipkin was never without the accessory bound to land him in front of the lens: a socialite. Nan Kempner, Slim Keith, the Duchess of Windsor, CZ Guest—these were among the dozens Zipkin listed as his nearest and dearest in a 1972 W story. "I have a very strong feeling about my friends," he proclaimed. "They're absolutely perfect."
Except when they weren't. Though he told W in June 1987 that "a best woman friend will do [a woman] in, whereas a best man friend won't," Zipkin wasn't exactly easy on his gal pals. Said an anonymous acquaintance in the 1987 article, "He'll come in and say, 'You look awful. Go upstairs and change!'" His "public beratings" of Betsy Bloomingdale were recounted, as was the time he wept over a poor seat at a Metropolitan Museum of Art Costume Institute dinner.
Fortunately, his closest friend of all was a tough broad who remained unfazed by Zipkin's histrionics: Nancy Reagan. Following Reagan's installment as first lady, Zipkin helped choose who would be invited to White House dinners. It was a coup the New York–born real-estate heir had long been looking forward to. As he told W at a lunch for Lillian Carter in September 1980, two months before her son lost to Ronald Reagan, "Come November, I don't plan to see these people ever again. Let them all carry on and kill themselves."
Even more loathsome to Zipkin than Democrats were bores. In the 1972 W article, he declared, "I think it's the obligation of a guest to make a contribution to a party." His love of fun was something he managed to communicate even from the grave. Upon his death, in 1995, along with the money he left to a few friends, he gave precise instructions in his will. "It is my desire," it read, "that the sums bequeathed be used…in a frivolous way and not for necessities."