She's Every Woman
For Jessica Chastain, nothing beats being someone else. Lynn Hirschberg catches up with Hollywood's most fashionable chameleon.
---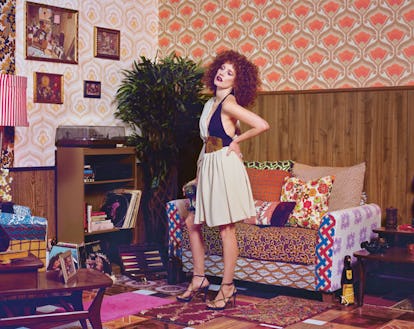 Acting is about the art of reinvention and transforming oneself into a character. To become someone else—to lose oneself in the guise of another—is, in many ways, the most thrilling part of what an actor does. The alchemy involved in that process is mysterious—a melding of mind-set, physical presentation, and the magical relationship between the actor and the person he or she is portraying. Since all cinematic characters are initially created by writers and directors, actors are the ultimate muses. They give life to other people's words and vision.
In the past two years, Jessica Chastain has seemed to go from nowhere to everywhere, reincarnating in movie after movie. She was a devoted mother in The Tree of Life; a loud, libidinous Southern belle in The Help; an Israeli Mossad agent in The Debt; and, more recently, a CIA analyst determined to track down Osama bin Laden in Zero Dark Thirty, which is in theaters on December 19, and a black-haired punk-rock chick in the frightening fantasy Mama (due out January 18). "I never want to get bored," Chastain told me over coffee in early November. It was cold, and her delicate frame was nearly swallowed by a large leopard-print scarf. She was wearing no makeup, and her wavy red hair was loose. It was just four days after Chastain's debut on Broadway in The Heiress, in which she plays a socially awkward virgin. "I wear a prosthetic nose," Chastain said, sounding delighted. "I learned how to put it on myself." She patted her nose. "I like the ritual. I love wigs, I love costumes, I love anything that will get me into the character."
Four years ago, when Chastain heard that the reclusive writer-director Terrence Malick was going to finally make his long-awaited semiautobiographical film, The Tree of Life, she immediately envisioned herself as the loving maternal center of that movie. "I can't say why, exactly," Chastain said. "Back then, I hadn't been getting any auditions for films, so I was doing guest spots on TV shows, and, for some reason, on those shows I got raped a lot. I was always cast as the victim. When I heard about The Tree of Life, I felt like I belonged in that world."
There was no script—at her audition, Chastain was asked to put a baby to sleep and to look at someone admiringly. "They showed me a poster of Ethan Hawke's face and said, 'Look at that with love and respect.' " But, as is her custom, Chastain had already plunged into the depths of the role. By the time she was given the part, Chastain had gone to Kansas, where she stayed on a farm; studied Lauren Bacall in her early films to capture her slow way of talking and moving; and examined the graceful expressions of various classical Madonna paintings at New York's Metropolitan Museum of Art. She even attended classes at a meditation retreat in Arizona called, oddly, Tree of Life. "I wanted to slow down the mad monkey of the mind in order to cultivate a kind of inner calm that would translate to the film. I knew I had to give myself over to the movie and to Terry [Malick]. That kind of immersion is so wonderful—it's why I love working with artists."
Perhaps that's why when we asked Chastain if she would allow herself to be reimagined by the visual artists George Condo, Rineke Dijkstra, Chantal Joffe, and Mickalene Thomas, she jumped at the opportunity. We already knew she could hold her own under such scrutiny: Last May, W featured Chastain, who is now the face of Manifesto, Yves Saint Laurent's new perfume, in a couture portfolio. In record time, she invented a different character for each look and made the clothes come alive, as if they were inhabited by elaborate personalities.
Chastain said she wanted to "become the canvas" for the artists—but that doesn't mean she was a passive participant. When Thomas asked the actress to channel Michelle Pfeiffer from Scarface for one tableau, Chastain was already imagining herself in the next scenario—as Diana Ross playing Billie Holiday in Lady Sings the Blues. "As a little girl, I wanted to be Diana Ross in that movie. And when I put on the red Afro wig, I finally felt like her." With Condo, Chastain was excited about the prospect of having her face painted. "I love the feeling of giving myself over to another strong point of view. It's the best kind of trust—the belief that an artist will take care of me while creating something unique." Joffe interacted with Chastain remotely—afraid of flying, the artist Skyped from her studio in London while Chastain simultaneously posed in a hotel room in New York. "I never saw Chantal in person, but her softness and phobic nature affected me," Chastain says. "I could hear the mix of shyness and strength in her voice, and I tried to channel that feeling. I found Chantal very feminine, so I moved that way. I fixed my hair by the window, I slouched while seeming intent." In front of Dijkstra's camera, Chastain attempted to remain as serene and open as possible. "That is Dijkstra's mood on set. That photo was probably closest to just being me," Chastain said, laughing. "And so, of course, I felt the most naked."
[#gallery: /galleries/5851cc939c190ec57abffe46]||||||
Styled by Felicia Garcia-Rivera and Nina Ziefvert. Hair by Nikki Nelms; makeup by Vincent Oquendo for Dior at Tracey Mattingly; manicure by Lisa Logan for Nails Inc. Photography assistant: Jayson Keeling; production assistants: Elisabeth Gaffaney, Roddy Fitzgerald.