Jessica McClintock's Romantic Aesthetic Is Having a Comeback
Contemporary fashion designers are clamoring for a look pioneered by '70s label Gunne Sax.
---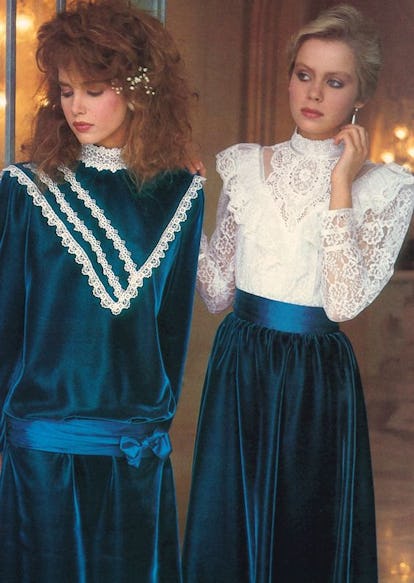 Courtesy of Gunne Sax
On September 14, 1998, readers of Women's Wear Daily woke up to a surprise. Nestled among the rag-trade publication's runway reviews, party dispatches, and job postings was a curious personals ad by the ­American designer Jessica McClintock. "Hopeless romantic looking for the perfect match," the desperate-sounding headline teased. But on further reading, the "mature, romantic, ambitious" subject in search of a soul mate turned out not to be McClintock herself but her ailing company, which was looking for a business partner to help reverse its fortunes.
McClintock, who came to prominence in the early 1970s as the empress of bridal-and-prom dressing behind the Gunne Sax label, immediately got a nibble from Kerry Glasser, a seasoned veteran and the president of Concept Marketing Group, who was taken with the ad and the woman who had placed it. "I thought it was just adorable," Glasser recalls. "I contacted her, and we instantly hit it off." But despite Glasser's belief in the cultural capital that the self-taught designer had generated over the years, McClintock, who had often been referred to as the Laura Ashley of America, remained an afterthought, and her second moment in the fashion sun would pass her by.
Until now. On the fall runways, the flouncy, froufrou offerings at labels ranging from Stella McCartney to Erdem and even Vetements could be read as a collective valentine to Gunne Sax's Holly Hobbie–inflected, boho romanticism. McClintock's legacy was there, hiding in plain sight, in the form of Stevie Nicks–on–the–prairie lace and ruffles, and the high-neck ascetic aesthetic that McClintock might have borrowed from the Mormon-fashion playbook.
"For ordinary women who weren't card-carrying fashionistas, she assimilated important trends and made them accessible," says Valerie Steele, the noted fashion historian and director of the Museum at the Fashion Institute of Technology, in New York. "The idea that there was a purer time in the past that was somehow a golden age is referenced whenever fashion is exploiting a hippie feeling. The kind of pretty, feminine stuff that she popularized in the '70s is absolutely having a revival now."
Designer Erdem Moralioglu agrees. "More than ever, people crave things that feel individual and that have a human hand to them," he says. "There's a hankering for the specialness that is associated with those times." Though Erdem is quick to point out that the waistless dresses and diaphanous evening gowns in his collection were not a conscious nod to McClintock, he shares her attraction to Hitchcockian clothes that can be at once lascivious and prim. "I love the idea of the seen and the unseen, like showing the nape of the neck on a high-front top or layering sheer fabrics in a way that both conceals and reveals."
These days, McClintock, who is in her 80s, lives with her two Labradors in a spectacular mansion in the Pacific Heights area of San Francisco that was previously owned by Francis Ford Coppola. She keeps up with fashion shows on social media and says she wasn't all that shocked to find herself part of the mix again: "With fashion being cyclical, I knew it was just a matter of time. Let's just say I was pleasantly not surprised."
McClintock, who was her own fit model until she ceased manufacturing to focus exclusively on licensing two years ago, recently has been entertaining the idea of joining forces with new business partners. In addition to her signature motifs being all over the runways, and her vintage wares being sought out on eBay, McClintock has had an unlikely booster in Hillary Clinton, who was married, in 1975, in a white lace Gunne Sax dress; photographs of the ceremony are suddenly as unavoidable as online pop-up ads. "I was surprised when I saw it again, because it was purchased in a department store, off the rack, and was a little understated for a bridal dress," McClintock says. "But it definitely had an old-world glamour to it." McClintock may just want to put her bid in now to design an Inauguration dress.
Fall 2016 Looks Inspired by Gunne Sax
Fall 2016 look from Stella McCartney.

Indigital
Fall 2016 look from Erdem.

Indigital
Fall 2016 look from Chloe.

Indigital
Fall 2016 look from Vetements.

Indigital
Fall 2016 look from Philosophy di Lorenzo Serafini.

Indigital
Watch W's most popular videos here: