Five Minutes with Jessica Richards
The founder of Brooklyn's hip Shen Beauty boutique shares her favorite products, skin secrets, and more.
---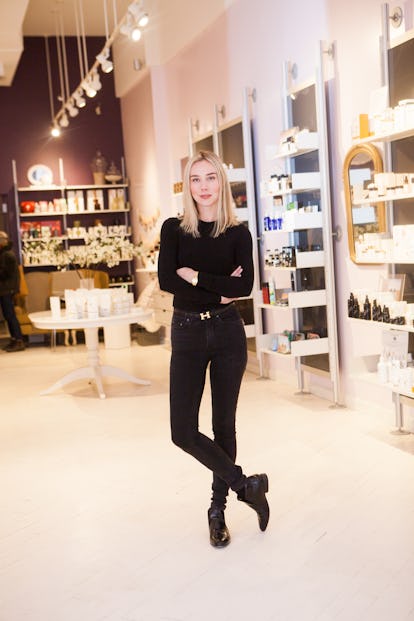 What's your first beauty memory? The smell of my mother. She's always worn Must de Cartier and that smell brings back the most incredible memories of my childhood. I remember how beautiful she was then and still is now and that smell will forever remind me of her.
What was your biggest beauty blunder? My hair! I had the "Rachel" and I was just recently at my mother's house going through old photos and found one of this cut, and it looks absolutely terrible! Not only is it not cute, it is so over-processed and dry. It looks like straw on my head! What the hell was I thinking?
What's your 5-minute beauty routine? Wash my face with Amanda Lacey cleansing pomade. Apply Skinceuticals CE Ferulic and Metacell Renewal b3, then May Lindstrom blue cocoon. Afterwards By Terry Densiliss serum foundation mixed with a little RMS highlighter. Blend well! Then tons of eyeliner, which I smudge a little because my skin is so slick. Tons of mascara, and no need to do brows because they're already tinted. Love + Sage lip balm in rose and I'm out the door!
If you had an extra ten minutes in the morning, how would you spend it? In the bath with Roques O'Neil Himalayan detox bath salts and either Pai Rose Hip Mask or Aurelia Rose Mask.
What beauty items are in your purse? I buy every eyeliner on the market but the one I am loving at the moment is Vapour Beauty Mesmerize Eyeliner and eyeko for liquid. Mascara is another addiction, the one I am loving now is the black magic by eyeko and I always, without fail, carry around my Love and Sage lip balm and this French hand jelly that is like NOTHING on the market.
What's your beauty peeve? Overdone looks. I like something to not be perfect. Whether it's perfect makeup and messed hair or a perfect blow out and simple mascara and brow. Not all of it should be overdone and perfect, even for black tie.
What are you currently obsessed with? I cannot live without Roques O'Neil Aura Spray. It rebalances everything and makes my skin feel so hydrated. I carry it everywhere and have it next to my bed and in my fridge. It is a lifesaver, in every way possible. I also LOVE The Beauty Chef, the Hydration Inner Beauty Boost tastes so amazing (I'm a huge fan of anything coconut) and I can totally notice a difference in my skin, not to mention when I'm feeling tired it really helps.